The eDiscovery manager's guide: How to preserve Zoom meeting data and chats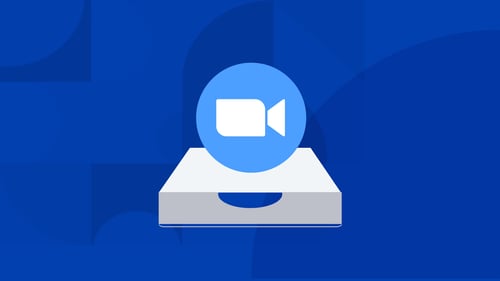 With over 300 million active daily meeting participants and counting, Zoom's vast adoption has generated new concerns for legal and IT teams. Just like any other app that holds critical business data, the discoverability of Zoom meeting data has become an increasingly hot topic. Though Zoom offers some features for preserving and collecting Zoom data, they're not equipped to handle eDiscovery at scale.
The good news? There are steps you can take to get ahead of disorganization and risk. We'll walk you through what Zoom data is available, where to find it, and retention considerations to keep in mind.
Let's get started.
Zoom meeting features
Zoom is widely known for video conferencing and for good reason. Zoom Meetings are the bread and butter of Zoom's solutions, offering HD video and audio, the ability to support up to 1,000 video participants in a single meeting, and display 49 videos on screen at a time. However, when it comes to Zoom eDiscovery, video isn't the only data type legal and IT professionals need to consider. There's also: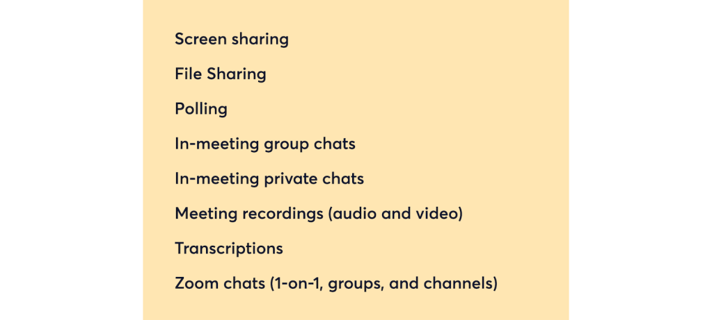 All of this data is relevant to eDiscovery, but before we cover how to find and preserve it, it's important to note which plans offer this functionality.
Zoom's Pro, Business, and Enterprise plans are required for recording and preserving video recordings, chats, and other in-platform data. Admins of these plans have access to several useful controls, like being able to record the meetings of selected users, user groups, or the entire organization; control over users' access to storing recordings on local devices; and even making transcription mandatory for all Zoom users.
Where is Zoom meeting data stored?
Understanding what Zoom meeting data you need and what licensing is required to access it is only half the battle. The next step is knowing where it's all stored. Here's an overview:
Zoom meeting recordings
Zoom meetings stored in the cloud are processed after the meeting has ended and will generate an MP4 video file, M4A audio file, and a txt file of any in-meeting chats and shared content. Admins can find links to all of these recordings by selecting the "Meetings" tab, then the "Recorded" tab on the top left of their navigation panel. A list of past meetings that were recorded locally and to the cloud will display, which can then be selected to view.
Admin users also have the ability to disable Zoom meeting recordings for cloud and local storage by navigating to the "Recording" tab within their "Account Settings". From there, you can enable or disable recording permissions for select users, groups, or an entire account.
Note: Zoom meeting recordings are only retained for 90 days by default and can only be surfaced and exported one at a time.

Zoom transcripts
If you have a Zoom paid plan, you'll also have access to live transcription, or closed captioning. This feature offers real-time transcription of what's being said during a meeting, making it easier to perform text-based searches and accurate record keeping. Note: Only the host of the meeting can enable the transcription feature.
Once transcripts are processed, they appear as separate .vtt text files and the individual transcripts are segmented into sections with a timestamp. Admins have the option to edit the transcript, search for keywords across all transcriptions, and display the transcript text within the video recording under "My Recordings".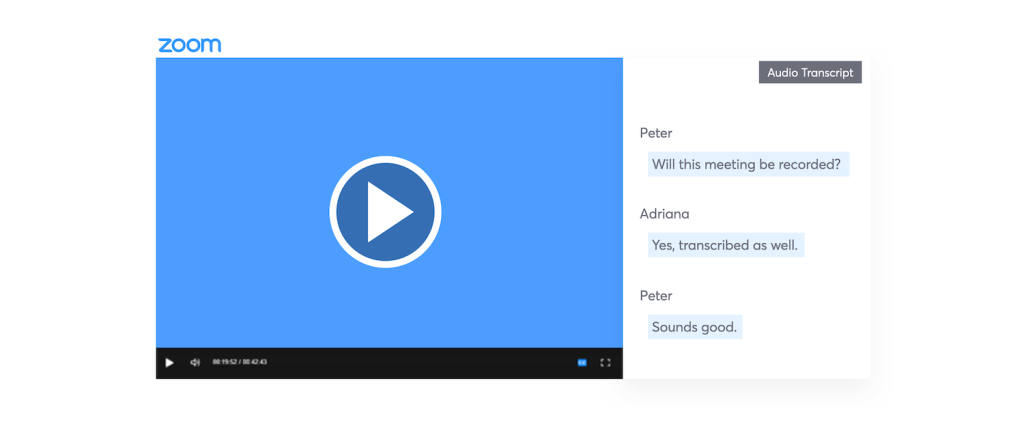 Zoom chats
Though this blog is focused on Zoom meeting data, we'd be remiss if we didn't cover chat. Conversations on Zoom can extend beyond meetings to include 1-on-1, group, and channel messages — creating another key source of information.
To access Zoom chat storage, admin users on paid plans need to enable the IM Management add-on. Once enabled, the account owner and admins can view, download and delete stored messages, and set a retention period for chats in the cloud and on local devices. By default, chats are stored in the cloud for two years and on local devices for one year.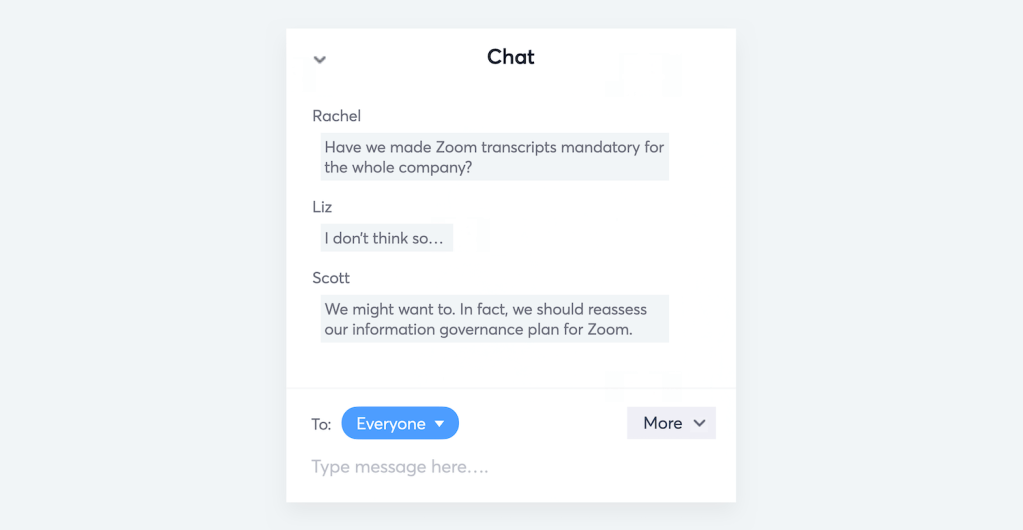 Note: Zoom's native search and export capabilities are limited and not designed for eDiscovery. Some limitations worth noting include: chat messages can only be searched by date range (up to 1 month at a time) and user, there is no context for chat messages listed in search results, and chat message downloads are limited to one conversation or all search results. This can leave large gaps and cause significant delays in your eDiscovery process.
Learn how Onna gives organizations a fully contextualized view of Zoom chats. Think: capturing edits and deletions, inactive custodians, attachments, images, and even emojis.
Storage and preservation considerations
Although Zoom data usage varies from company to company, on average, Zoom uses roughly 540MB-1.62 GB of data per hour for one-on-one calls, and 810MB-2.4 GB per hour for group meetings. That's a lot of Zoom meeting data to keep track of, so using effective retention policies to specify what meetings and chats should be recorded, where they should be stored, and how long they should be stored, can pay off tenfold for discovery and compliance purposes.
Don't know how much storage you have at the moment? For all paid plans, Zoom retains up to 1 GB of meeting recording files and once that is exceeded, account owners will need to pay for additional cloud storage. Admin users can access these files and archive anything they no longer wish to keep in the cloud by doing the following:

You will see a list of cloud recordings on your account and can adjust the date range, specify meeting ID, search by meeting host, topic, or keywords. You can also view your remaining cloud storage.
Looking towards the future
If one thing is certain, Zoom is here for the long haul — and meeting data is just one piece of the Zoom data puzzle. As teams continue to collaborate and connect, legal and IT professionals need a proactive strategy for defensibly capturing and identifying Zoom data.
Need to conduct Zoom eDiscovery at scale? Learn how you can collect, preserve, search, review and export your Zoom data alongside all of your other apps in one platform here. And come back for more eDiscovery insights!
Back to the top