The beginner's guide to Zoom eDiscovery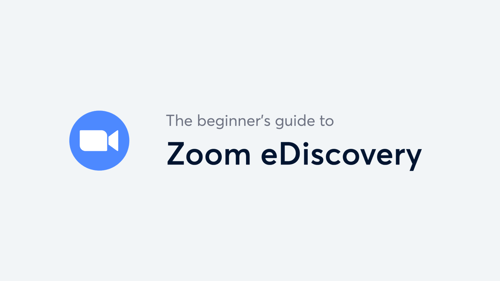 Introduction: The Beginner's Guide to Zoom eDiscovery
Welcome to our Beginner's Guide to Zoom eDiscovery — where we'll cover everything you need to know about eDiscovery for Zoom, the leading cloud video communications platform connecting businesses and organizations across the world. As remote communication and collaboration continues to soar across various organizations and industries, Zoom stands at the forefront helping a whopping 260,000+ customers stay connected via video, voice, content sharing, and chat. Committed to empowering people to accomplish more with frictionless video communications, Zoom is compatible with multiple cloud devices and systems and connects to best-in-breed applications like Slack, GSuite, Microsoft Teams, and more.
As classrooms, boardrooms, doctors offices, and more expand to the cloud, Zoom has become the new space for traditionally in-person operations. Critical conversations and sensitive information have been generated within the walls of Zoom, prompting many eDiscovery professionals to ask, "Where does that data go?", "How do we find it?" and "What other compliance, risk, and legal concerns should we have?" Requests for Zoom eDiscovery solutions are bound to be a symptom of this new reality, and chances are if you're here, they already are. In this guide, we'll break down how Zoom works, what Zoom data looks like and where it lives, and what your options are for Zoom eDiscovery.
What is Zoom?
Before we get into Zoom eDiscovery, it's important to understand what Zoom actually is and how it works. Although most widely known for its video conferencing, Zoom is a multi-faceted cloud communications platform for video, voice, content sharing, and chat. The platform runs across mobile devices, desktops, telephones, and room systems, making it a flexible solution for all organizations and businesses, no matter where their teams are located.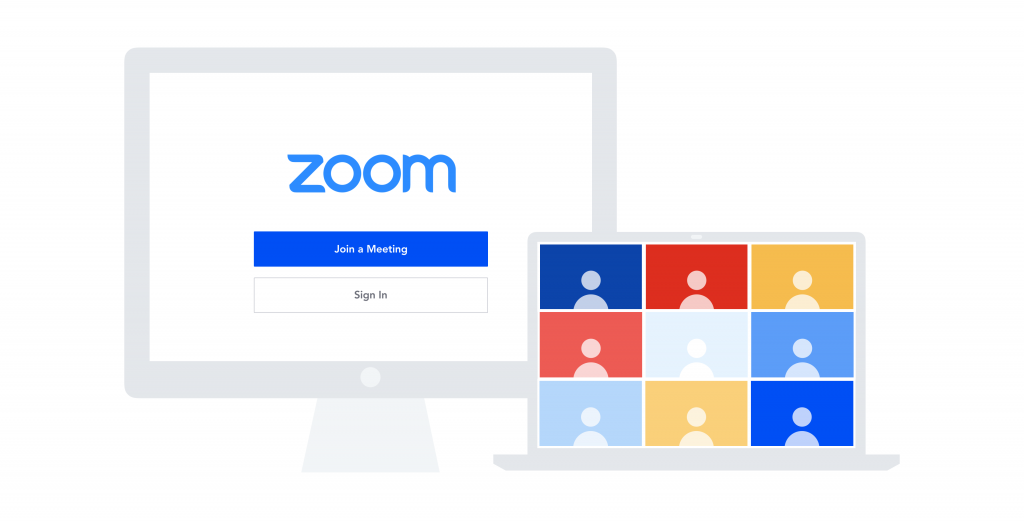 Zoom users can communicate from anywhere at any time and are even able to switch between devices in a pinch without ever having to leave their calls. The unified structure of their video, audio, web conferencing, enterprise telephony, and chat alleviates support burdens on IT teams that'd otherwise be dealing with multiple communication platforms, making it the most centralized and seamless option on the market. Not to mention, its integrations with other cloud-based apps make it easy to create custom workflows that can improve efficiency and collaboration.
Now that we know what Zoom does, let's break down its different solutions. It's important to take note of all the solutions your organization has adopted and how your team interacts with them to understand what information may be relevant for Zoom eDiscovery.
Zoom Rooms
Zoom Rooms is Zoom's cloud-based conference room system designed to transform any meeting space into a video conference room. Rather than dealing with the constraints of traditionally complex and expensive on-prem hardware, Zoom Room users can deploy up to thousands of video conference rooms using any off-the-shelf hardware. Zoom also partners with trusted manufacturers to pre-load hardware with Zoom software, so all teams have to do is sign into their account after plugging in their devices. It features video and audio conferencing, wireless content sharing, and integrated, real-time scheduling to make a seamless, connected conference room experience regardless of where you are.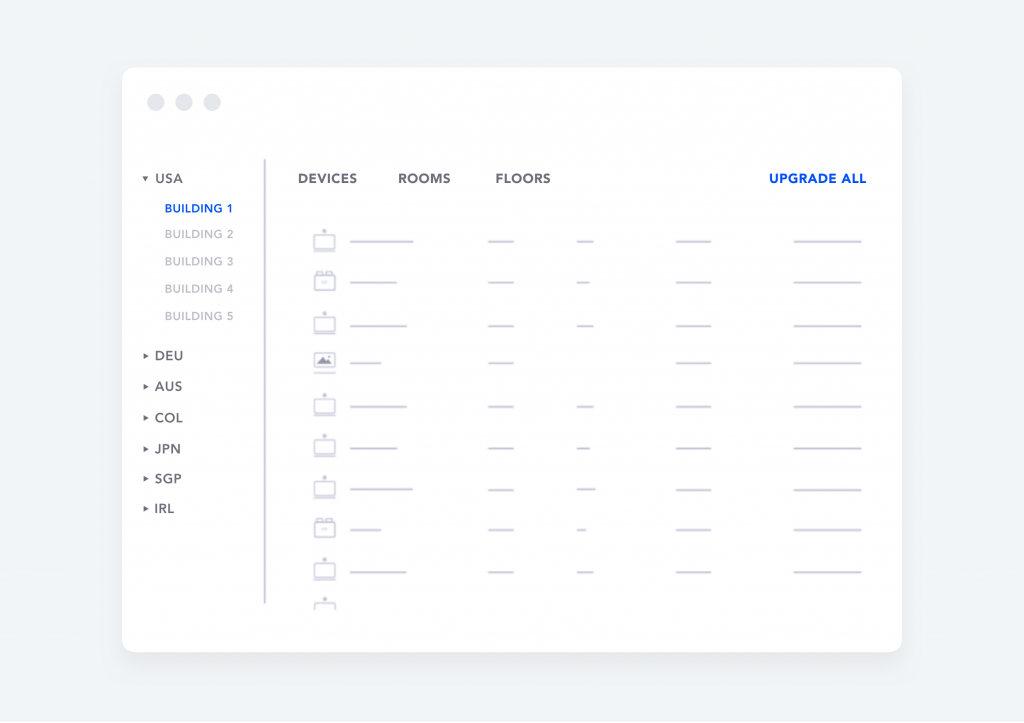 Zoom Meetings
You might think of Zoom Meetings as basic video calls, but they're so much more. With HD video and audio features and capacity for up to 1000 video participants and 49 videos on the screen, Zoom Meetings have robust usability. And when it comes to Zoom eDiscovery, there are lots of levers and features to be aware of. Screen sharing, file sharing, group chats, meeting recordings, and the ability to schedule directly from Outlook, Gmail, or iCal, among so much more, make Zoom Meetings a highly interactive experience.

Zoom Chat
Zoom Chats are exactly what they sound like — instant messaging between Zoom users. Zoom Chats can be stand alone direct messages or they can be part of a Zoom Meeting. Zoom Chats enable users to instantly send messages and share files either one-on-one or in groups. Users can also click "Meet" from any chat to start an instant Zoom video meeting with group participants.
Zoom Phone
Zoom Phone is Zoom's cloud-based phone system available as an add-on to the platform. Zoom utilizes Voice-over-Internet-Protocol (VoIP) to deliver quality voice services and a secure and reliable alternative to on-premise PBX phone solutions. However, similar to Zoom Rooms, Zoom Phone offers interoperability with supported on-premise endpoints. Zoom phone users can consolidate all of their phone calls into the platform alongside their video and chat communications, and even transition a Zoom Phone call to a Zoom Meeting with the click of a button.
Zoom Webinar
Zoom Webinar is Zoom's video webinar solution used by teams who want to host live and on-demand virtual events. Zoom Webinars have impressive dependability as they're able to hold up to 100 video panelists and up to 50,000 participants. They also have highly interactive features like screen sharing, polling, live Q&A with the ability to upvote questions, and the ability to send chats and survey links while in session. Similar to a regular Zoom Meeting, Zoom Webinars can be recorded and saved locally or in the cloud in MP4 or M4A format.

Capturing and preserving Zoom data
Now that we understand the ins and outs of Zoom's solutions, let's discuss the data relevant to Zoom eDiscovery and how it can be preserved and captured.
Zoom Meeting Recordings
Zoom Meeting recordings are the most critical pieces of electronically-stored information when it comes to Zoom eDiscovery. If preserved correctly, Zoom Meeting recordings can provide expansive information to comply with future discovery obligations. Here's everything you need to know to set proactive preservation settings and minimize risk.
The admin capabilities of Zoom's Pro, Business, or Enterprise accounts are vital to Zoom eDiscovery. If you do not have access to this type of account, we recommend getting it as soon as possible.
Admins of these accounts can record and preserve the meetings of certain users, groups, or all members in their organization. From a long-term preservation perspective, this is a key feature to have.
Admins can also control whether or not individual users or participants have the ability to store meeting recordings on their own devices. When it comes to minimizing risk, it's probably a good idea to disable this feature so that you can save yourself the hassle of tracking down recordings in local devices down the line.
If an admin chooses to preserve the meetings of all organization members, they can either be stored on their local device or in Zoom's Cloud. If meetings are stored on a local device, the recording options will vary, however, if meetings are stored in Zoom's cloud, an MP4 video file, M4A audio file, and a txt file of any chats that occurred during the meeting will automatically be created and saved as soon as the meeting ends. Zoom also offers the ability to transcribe the meetings so you have a text recording of what was said during the meeting. For these reasons, we highly recommend saving your recordings in Zoom's Cloud and making transcription mandatory for all users. Read more on how Zoom protects your data in the cloud here.

After transcripts are processed, they'll appear as a separate .vtt text file in the list of recorded meetings. Each transcript is divided into sections each with a timestamp. You'll have the option to:
Display the transcript text within the video recording itself.
Edit the transcript text to improve accuracy.
Search for keywords across all transcriptions under "My Recordings".
For more specific instructions on how to do the above, head here.
Zoom will retain up to 1 GB of files of recordings for all paid subscribers. Admins can access these files at any time and archive anything they can no longer keep in the cloud. These meetings are located under the "Account Management" → "Recording Management" section of the Administrator profile. After 1 GB is exceeded, account owners will have to pay extra for additional storage. See below for storage add-ons:


Even if you haven't been saving your Zoom meetings, admins still have a good degree of visibility into usage of the platform. If you click the "Reports" tab, and then the "Usage Reports" tab under the admin's view, you can review and export daily usage reports, overall meeting reports, inactive user reports, upcoming events, meeting registration, poll reports, and an overview of the cloud recording storage capacity. To fulfill future eDiscovery obligations, you'll probably get the most information out of the overall meeting reports.

Note: Although these reports can be retrieved for the previous twelve months, they're limited by a 30-day search range. The reports are also exported as CSVs.
Zoom Chats
In addition to Zoom meeting recordings, Zoom chats can also provide relevant context when it comes to Zoom eDiscovery. Here's everything you need to know about preserving, archiving, and finding Zoom chats.
The admin capabilities of Zoom's Pro, Business, or Enterprise accounts are vital to Zoom eDiscovery. If you do not have access to this type of account, you will not be able to store Zoom chats.
Admins need to enable IM Management to gain access to Zoom chat storage and archival. This is essentially a chat management add-on that allows admins to assign users to different groups such as private, shared, or restricted. All of these dictate different levels of access. To enable IM Management and understand permissions for each user group, follow these steps.
Once IM Management is enabled, the account owner or admins can set a retention period for chat messages in the cloud and on local devices. The default periods are two years for the cloud and one year for local devices. Zoom chats can be stored up to 10 years max and 1-day minimum after messages are received. Once this length of time is up, messages will be deleted from the cloud and on local devices. To change your chat storage settings, follow these steps.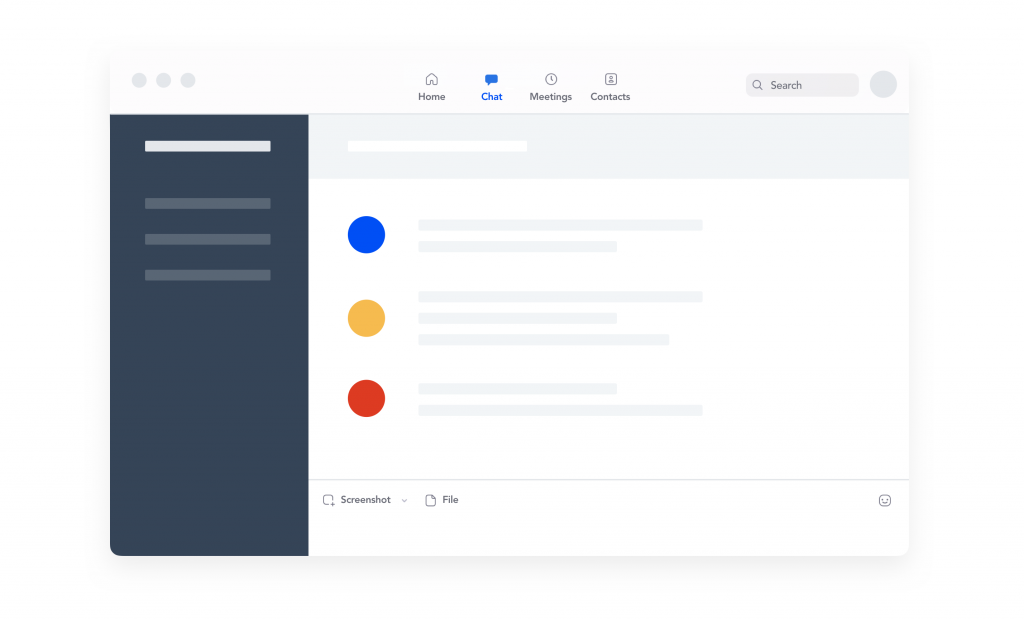 Note: If a retention period is changed to one month or less, users will be notified with a yellow banner at the top of their chat window.
If given "Chat History" permission by the account owner, admins can also set archival settings for Zoom chat messages. To enable archiving under IM Management settings, go to the "Storage" section and click the Cloud storage toggle. Once enabled, you can archive Zoom chat messages for up to 10 years.
Account owners and admins can also download saved messages in CSV format. In the "Chat History" tab in your IM Management settings, you can search for specific messages by date range or user. Once you find what you need, you can download the chat in CSV format. This file will show:
The session ID
Sender email
Receiver email or chatroom name
Date
The content of messages

What if I need to delete a user's data on Zoom?
The only way to delete a user's activity on Zoom such as meetings and recordings, is to permanently remove the user from the account.
Zoom eDiscovery Strategy
Whether you're just starting out with Zoom eDiscovery, or have already taken some kind of initiative, we believe each of these steps are crucial to employing a successful Zoom eDiscovery plan. We understand that no organization or legal team is the same, so we made sure that this is an adaptive guide to fit your unique needs.
Step 1: Understand your needs
As obvious as it may seem, the first step in launching a successful Zoom eDiscovery plan is understanding your needs. To do this, ask yourself questions like: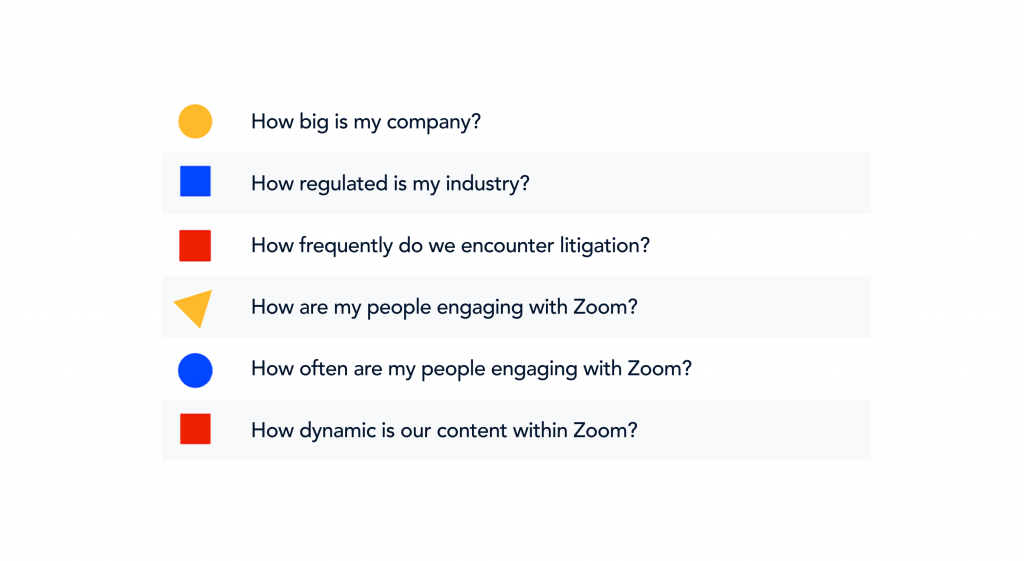 By asking yourself these questions, you can get an idea of the appropriate actions to take. For example, if you come from a company of a few thousand people who regularly engage with Zoom, chances are you're dealing with a much larger user base, a much higher data set and device count, therefore, higher risk if the right information isn't discoverable — or worse, carefully preserved. If this is the case, you know that solely relying on Zoom to accurately process your data isn't the solution. Especially if users don't opt into transcription, it becomes nearly impossible to search the context of meetings, which further blocks you from knowing what users should be on legal hold, and the full scope of an investigation.
Whether you're a large organization or a small organization, if your Zoom account holds critical information, it should be accessible, secure, and private. If you're not confident this is the case, it's time to re-assess your Zoom eDiscovery efforts.
Step 2: Re-assess your Zoom plan
Once you understand your needs, make sure your current Zoom plan supports those needs. As mentioned before, we highly recommend you upgrade to one of Zoom's paid plans to receive ultimate visibility and access to your data. If you don't already have a Pro, Business, or Enterprise plan, we highly recommend you get one. Without it, you won't have the visibility and control necessary to form a Zoom eDiscovery strategy. To drive this point home, here's an exhaustive list of the permissions that you can only get with paid plans: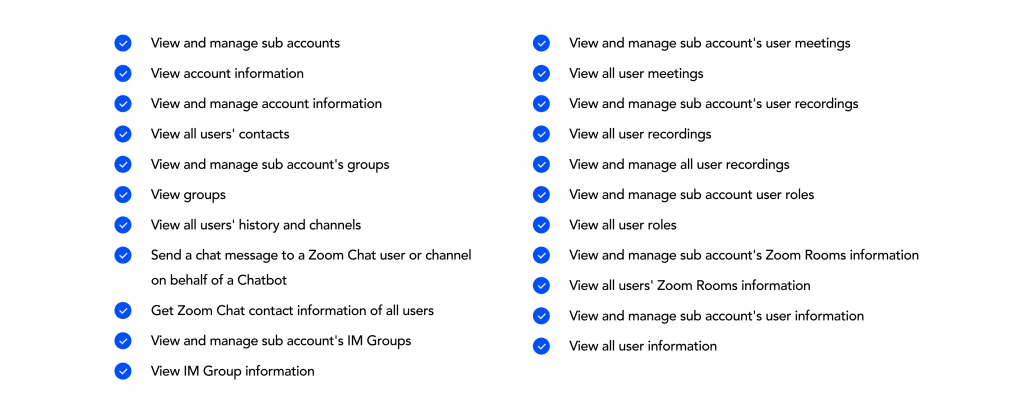 Step 3: Establish a company Zoom policy
You should always establish a company policy for every new technology you roll out — and Zoom is no exception. Although there is no one-size-fits-all approach to your company Zoom policy, setting expectations around which types of meetings should be recorded, where recordings should be stored, what the retention period is for recordings, and what permissions users are granted will help you locate the information you need when it matters most.
Not only should your company Zoom policy enable the admin side, but also the employee side. Consider obligations that are unique to your business or industry. Take for example, in financial services, you may have to record a client's permission for a transaction, so you want to make sure your employees are instructed to do so in your Zoom policy.
We also have to remember that Zoom is a fairly recent adoption at many companies, so we can only anticipate the types of litigation challenges we'll run into. For example, what happens if employees don't opt into a recording or transcript? Will this create defensibility issues down the line? How can we adjust our employee Zoom policy to solve this? Erring on the side of caution and thinking proactively about preservation, deletion, and searchability will ensure your company Zoom policy is strong for the long haul.
If you're ready to start drafting your Zoom policy, we recommend covering the following areas as a start:
Remember that every organization looks different, so this list can be expanded or narrowed down according to your scope of use and priorities.
Step 4: Implement an eDiscovery Solution
Although Zoom has implemented some useful preservation and search features, its enterprise-level controls are limited for a long-term strategy. Zoom has a capacity limit of 1 GB on its cloud recording storage, and a 10 year retention period on its chat archives, so if you foresee your organization exceeding these limits, it's probably a good idea to store this data in a different cloud-based repository. To ensure your Zoom eDiscovery plan is the strongest it can be, you'll want to implement a trusted eDiscovery solution to help you forensically process and search across all of your recordings, transcripts, and chats.
Since litigation happens once in a blue moon for a majority of companies, far too many legal teams feel that they're overspending on an in-house solution. However, the opposite couldn't be more true. In fact, companies waste millions of dollars waiting for litigation to strike rather than taking a proactive approach.
If you're ready to look for a Zoom eDiscovery solution, at the very minimum it should have:
An API connection with Zoom to extract the most defensible data possible from your Zoom environment including meeting recordings, audio recordings, transcripts and Zoom chats
Ability to choose what Zoom data you collect and preserve
Continuous sync and archive of specific data if needed
Powerful processing features including but not limited to: metadata extraction, OCRing, natural language processing, and custom classifiers
Forensic-level search
Beyond these Zoom-specific features, your eDiscovery solution should be able to tick off some other crucial boxes as well. Flexible deployment, top-tier security measures, and compatibility with review platforms are just a few of the top things to look for in an eDiscovery software. By bringing a Zoom eDiscovery solution in-house, you'll increase efficiency and cut back on spending in the long run.
Step 5: Make a long-term eDiscovery and Preservation Plan
As more and more apps like Zoom emerge, the more complex information governance gets. For this reason, it's important to have a sustainable, enterprise-ready eDiscovery solution that can adapt to any new technology that comes your way. Ideally, litigation will rarely come up in a company's life-cycle. However, if it does arise, you'll want to think about the big picture when deciding on a Zoom eDiscovery solution.
Maybe right now your priority is to find something cheap and easy for Zoom, but down the line, you may wish you'd considered the greatest tool for Slack, GSuite, Microsoft Teams, and the dozens of other enterprise applications you may use. From this lens, it's best to look for a "master tool" for your entire tech stack to provide long-term value for your company.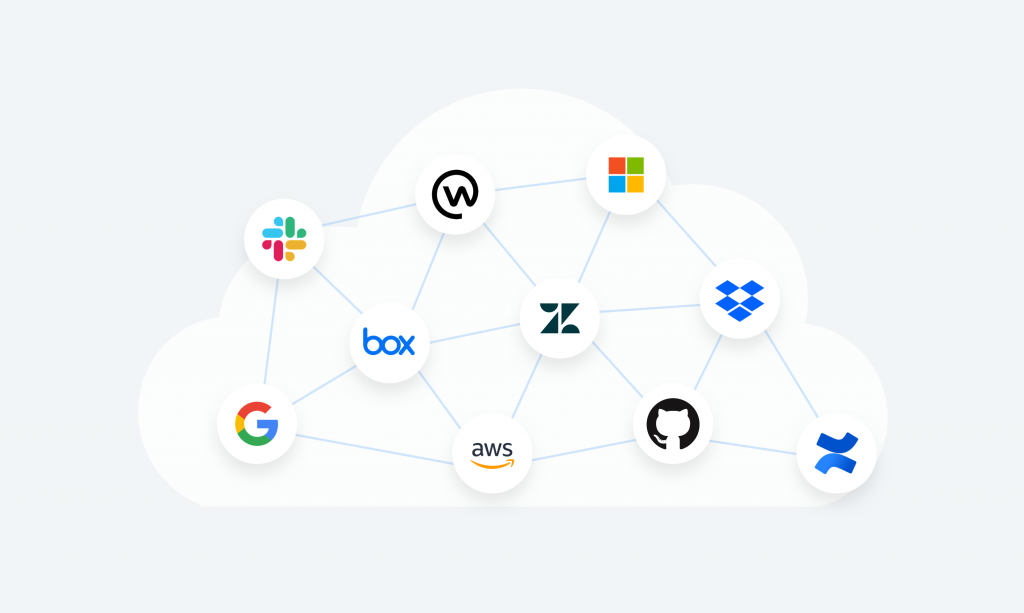 It's also worth noting that video and audio files are large and typically very expensive to process and store. When storing and archiving these files with Zoom's current storage add-ons, spend will rack up fast. You want a solution that will continually process, store, and archive the data you need — nothing more, nothing less. The right eDiscovery solution can provide this and eliminate worry around capacity limits and additional expenses.
And there you have it — We hope our guide gave you a better understanding of the Zoom platform, its discovery capabilities and limitations, and how to create a proactive Zoom eDiscovery plan. Remember that executing your plan is an ongoing process and requires constantly educating and guiding your workforce as they navigate new technologies.
About Onna for Zoom
With Onna, organizations that use Zoom can centralize their eDiscovery efforts by integrating not only Zoom, but also all of their other enterprise applications in the same place. Not only does this provide exceptional eDiscovery capabilities for Zoom users, but also Zoom users that double as GSuite users, Slack users, Sharepoint users, and more.
Onna's open-ended API integrates directly with Zoom to simultaneously collect and process all available data in real-time. Our rapid ML indexing and OCR paired with our precise search capabilities make it easier than ever to customize your collections and avoid unnecessary processing costs. Your Zoom data can be synced into the platform in a matter of minutes, so you can immediately find and export the data you need. Nothing more, nothing less.
Want to see our integration with Zoom in action? Reach out to us to learn more.
Back to the top