The beginner's guide to Zendesk eDiscovery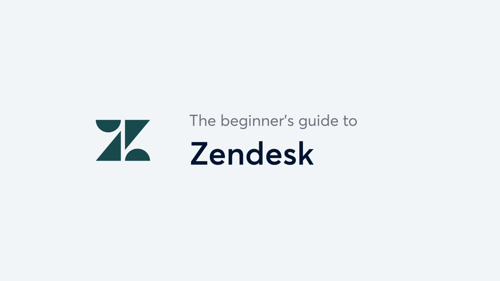 Introduction: The beginner's guide to Zendesk eDiscovery
Welcome to the beginner's guide to Zendesk eDiscovery, where we'll cover everything you need to know about eDiscovery for Zendesk, a cutting-edge Customer Relationship Management (CRM) software focused on helping businesses improve their customer experience. From an advanced ticketing system to AI-powered answer bots, Zendesk's suite of products helps businesses automate their customer support efforts with an all-in-one solution. Managing 170,000 accounts across 160 countries, Zendesk hit its $1 billion revenue milestone in 2020, cementing its status as a top CRM contender.
Our increasingly remote world has only added to Zendesk's momentum. Working from a distance has pushed companies to prioritize connectivity and communication in all areas of the business, and customer experience often sits at the top. Customers are, after all, the lifeblood of any business — which makes their requests, questions, and complaints (and support agents' responses) critical data. A single Zendesk ticket can hold sensitive communications, attachments, and personal information that may become relevant for legal and regulatory reasons. Having a way to easily find and produce the right data is essential, which is why having a Zendesk eDiscovery strategy is quickly becoming a priority for many companies.
In this guide, we'll help you understand how Zendesk works, what kind of data it holds, and how to collect that data. We'll also leave you with a flexible Zendesk eDiscovery strategy you can adapt to your needs.

What is Zendesk?
Before we dig into Zendesk eDiscovery, let's break down what Zendesk actually is. At its core, Zendesk is a customer service software that helps companies maintain their customer relationships with innovative tools known as The Zendesk Suite. This centralized, omnichannel workspace helps agents focus on customer interactions regardless of where they live.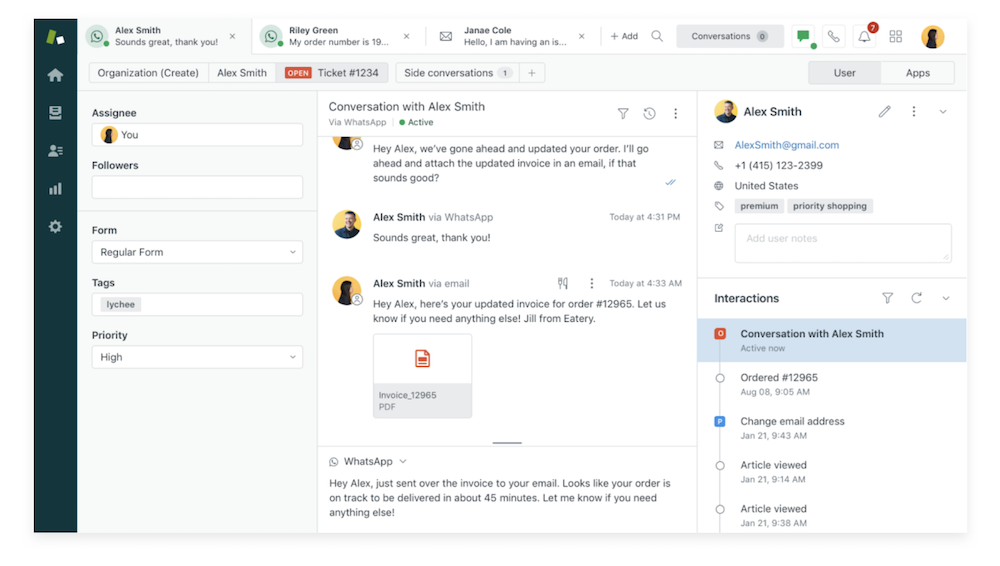 Let's dig into the basics of the main products:
1. Ticketing system
Zendesk's ticketing system is truly the core of how Zendesk works. Between chat, email, social media, and more, it pulls all customer inquiries into one centralized hub. Regardless of where conversations happen, Zendesk collects every customer submission, turns it into a ticket, and queues it up in one place for support agents to take care of. This not only makes it easy for your agents to track, prioritize, and solve customer inquiries, but also gives them a holistic view of the customer profile and journey.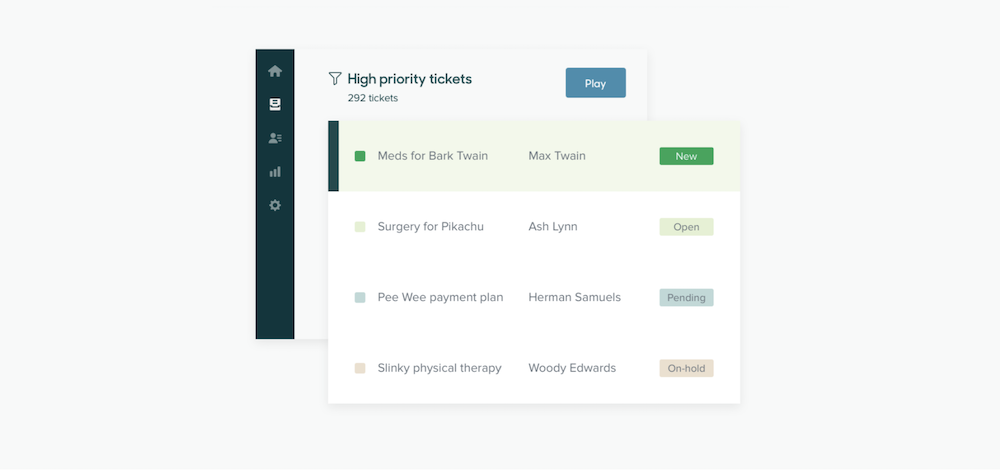 2. Messaging and live chat
Zendesk's messaging and live chat feature ensures businesses can stay connected with their customers on any channel. Whether you want to message a customer in the live chat on your website, or on social apps like WhatsApp and Facebook, Zendesk allows you to frictionlessly continue the conversation from place to place. Additionally, you can create pre-automated, customized messages to get ahead of customers' questions, or even connect third parties in group chats to expedite answers and reduce back-and-forth interactions.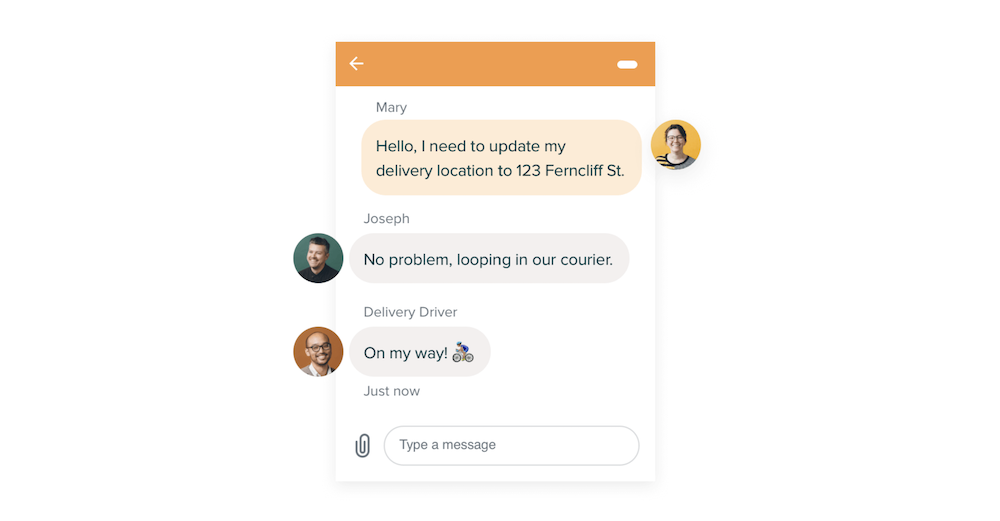 3. Help center
Zendesk's Help Center is where you can build a knowledge base to help customers find the information they need. Whether it's a how-to article or FAQ page, strong help center content empowers customers to solve issues on their own. You can elevate your Zendesk Help Center by customizing the theme, integrating it into your product or website, and allowing your team to update and publish new content over time.
4. Voice
Zendesk's Voice feature enables you to take customer calls from the main interface, so you don't need to toggle back and forth between communication channels. Not only does this help keep things organized, but it also shows agents key customer information and previous interactions so they have context going into the call. Once the call or voicemail has concluded, it's logged as a ticket and the recording is attached for easy reference.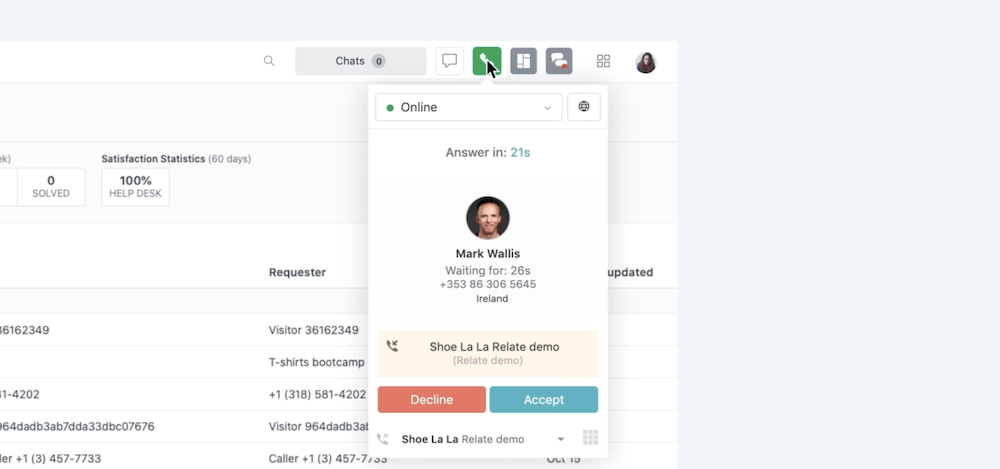 5. Answer bot
Zendesk's Answer Bot is an AI-powered chatbot that automatically answers customer questions. This frees up support teams' time by automating common Q&As and can also detect relevant content in the Help Center to send along as well. Zendesk's Answer Bot can operate across multiple communication channels like email, messaging, or even third-party integrations like Slack. If a customer's question can't be answered, Answer Bot will direct them to a support agent for more personalized assistance.

How do I collect data from Zendesk?
Now that you have an overview of the main products, let's talk about how to collect relevant data. When it comes to Zendesk eDiscovery, your most valuable data will likely live in tickets. Whether it's an email with an attached document or a message with an image, different interactions from different channels are consolidated into a record of tickets. Each one holds a piece of the customer journey, and may be vital to find, collect, and preserve for legal or compliance reasons.
The native option:
You can export Zendesk tickets to a JSON, CSV, or XML file if your account owner has this feature enabled. When collecting for Zendesk eDiscovery at scale, however; we don't recommend relying on the native export feature, as there are a few major limitations:
Only customers that have the Support Professional or Support Enterprise plan have access to the export feature.
None of these exports include ticket attachments. The XML file will provide a link to the attachments but will not download the attachment itself, leaving a large gap in the conversation.
None of these exports include suspended tickets.
The XML export is not available for accounts with more than 200,000 tickets, only the JSON export.
Accounts with more than 1 million tickets are downloaded in JSON format, but only in 31-day increments.
Customers cannot filter data before exporting it. So, even if you only need to sort through a certain ticket type or date range, you will have to manually sort through a massive data set.

When all is said and done, the JSON export is often the only export available, and its unfriendly formatting makes it extremely difficult to understand tickets in context. Not to mention that when accounts break the 1 million ticket barrier, customers lose access to data that's over 31 days old. Bottom line: the native export option gives users an incomplete picture of their data, making collections insufficient for Zendesk eDiscovery. However, Zendesk does offer API access to help alleviate these issues, which we'll get into next.
Does Zendesk have an API?
Yes, Zendesk does have a Support API to help customers collect ticket data; however, you'll need to work with a trusted eDiscovery partner to turn incomprehensible JSON files into review-ready data. By leveraging this API connection with the right eDiscovery partner, users can collect:
Tickets (open, closed, suspended, deleted)
Attachments included in tickets
Labels for attachments and pages
Ancestors for the page/attachments
Ticket ID (#)
Ticket Name
Ticket Type
Organization
Ticket Status
Assignee
Requester
Group
Ticket Priority
List of tags
We highly recommend connecting to Zendesk's API via a Zendesk eDiscovery partner. It's the only way to ensure that you have full contextual knowledge of your tickets and can quickly identify what's relevant for your investigation. Although the API connection might be the first step in successfully navigating Zendesk eDiscovery, there's more you need to know. Let's get into some key considerations and best practices.
Zendesk eDiscovery strategy
Whether you're just starting out with Zendesk eDiscovery, or have already taken some kind of initiative, we believe each of these steps is crucial to building a successful Zendesk eDiscovery strategy. We understand that no organization or legal team is the same, so we made this an adaptive guide.
Step 1: Understand your needs
As obvious as it may seem, the first step in launching a successful Zendesk eDiscovery strategy is understanding your needs. Whether you need to collect data for a one-off discovery request or are tasked with archiving millions of tickets, it's important to investigate your organization's relationship to Zendesk data. To do this, ask yourself questions like: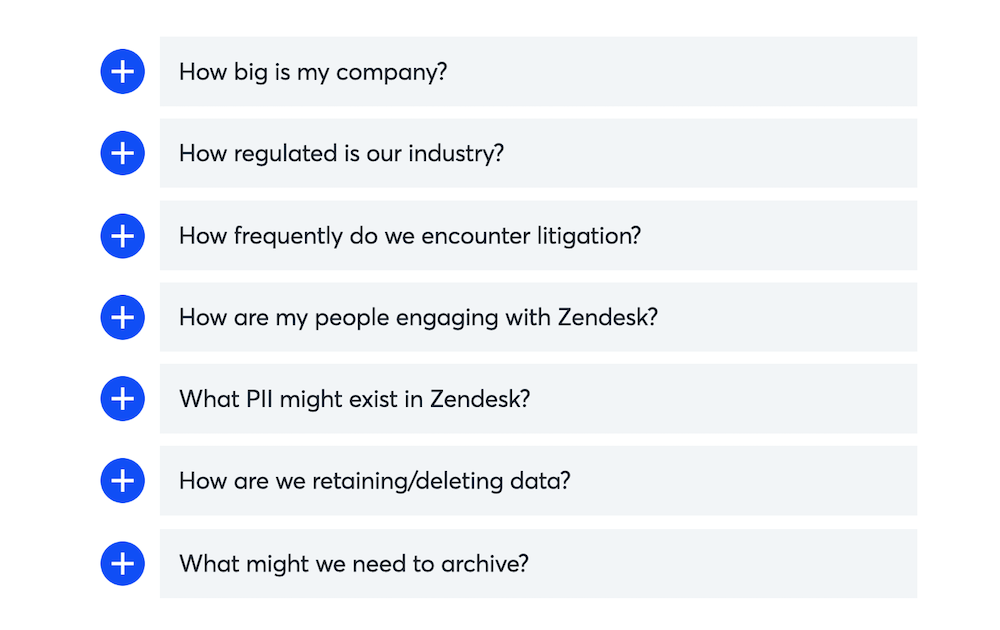 By asking these questions, you can start to get a more holistic sense of your information governance needs. For example, if your company has thousands of customers who regularly engage with Zendesk, and you operate in a highly regulated industry where sensitive information is being shared, you're likely dealing with a large data set. Plus, significant risk if the right information isn't discoverable — or worse, erased. If this is the case, you know that solely relying on Zendesk to accurately preserve and search for your data isn't sustainable.
Whether you're a large or small organization, if your Zendesk account holds critical information, it should be accessible, secure, and private. If you're not confident this is the case, it's time to reassess your Zendesk eDiscovery efforts.
Step 2: Anticipate future risks
You should be thinking about where your Zendesk environment is today, but also where it's going. When assessing your Zendesk eDiscovery needs, you'll likely come across both short-term and long-term problems. While it's important to solve for immediate needs, getting ahead of future risk should always be top of mind. A few legal and compliance gaps specific to Zendesk might be: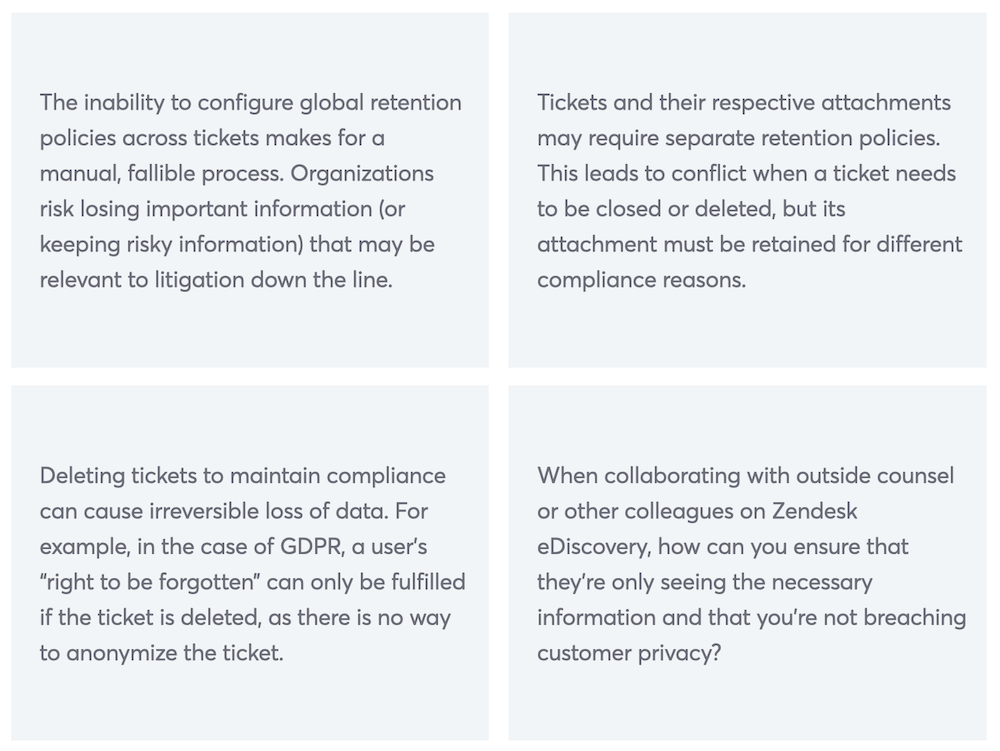 These are just a few roadblocks organizations might hit down the line when conducting Zendesk eDiscovery. Depending on your size, industry, and use of the platform, these scenarios could look different — but one thing's for certain, it's best to know what you're up against.
Step 3: Establish a company policy for Zendesk
After you've fleshed out potential Zendesk eDiscovery challenges, one of the best ways to get ahead of them is to establish a company policy for Zendesk. This is essentially your central documentation or "north star" for Zendesk information governance. From outlining retention periods for different data types to technical instructions on how to collect and filter data, this policy should lay the groundwork for legal and compliance preparedness.
If you're ready to start drafting your Zendesk policy, we recommend covering the following areas as a start: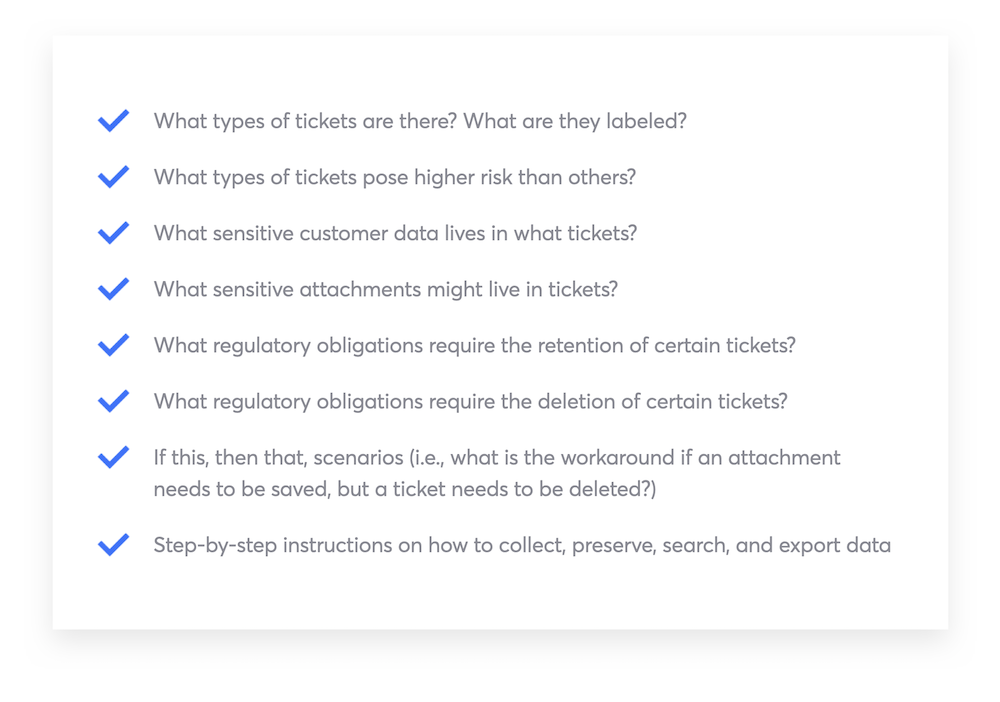 Remember that every organization looks different, so this list can be expanded or condensed to align with your priorities.
Step 4: Implement an eDiscovery solution
Even with all of your policy ducks in a row, Zendesk still has some technical limitations that will stop you in your tracks. To ensure your Zendesk eDiscovery plan is the strongest it can be, you'll want to implement a trusted eDiscovery solution to help you forensically collect, process, and search across all of your tickets.
Since litigation rarely comes up for many companies, far too many legal teams feel that an in-house solution is overkill. However, the opposite couldn't be more true. Companies that don't take a proactive approach waste countless hours, dollars, and resources waiting for litigation to strike. Not to mention, having the right information at your fingertips is useful for any internal investigations and audits that might arise. From SLA discussions to customer service complaints, to inappropriate language and harassment, Zendesk data can prove relevant in many scenarios.
If you're ready to look for a Zendesk eDiscovery solution, at the very minimum it should have:
An API connection with Zendesk to extract the most defensible data possible, including attachments
Ability to choose which Zendesk data you collect and preserve
Continuous sync and archive of specific data if needed
Powerful processing features including but not limited to: metadata extraction, OCRing, natural language processing, and custom classifiers
Forensic-level search
Beyond these Zendesk-specific features, your eDiscovery solution should check some other crucial boxes as well. Flexible deployment, top-tier security measures, and compatibility with review platforms are just a few of the top things to look for in eDiscovery software. By bringing a Zendesk eDiscovery solution in-house, you'll increase efficiency and cut back on spending in the long run.
Step 5: Make a long-term eDiscovery and preservation plan
As more and more apps like Zendesk emerge, the more complex information governance gets. For this reason, it's important to have a sustainable eDiscovery solution that can adapt to any new technology that comes your way.
Maybe right now your priority is to find something cheap and easy for Zendesk, but down the line, you may wish you'd considered a tool that integrates with Slack, Google Workspace, Jira, and the dozens of other applications you may use. From this lens, it's best to look for a "master tool" for your entire tech stack to provide long-term value for your company.
You want a solution that will continually process, store, and archive the data you need, so you don't need to worry about one-off, half-baked data exports. Additionally, a solution that applies retention periods to relevant data will ensure nothing slips through the cracks.
We hope our guide gave you a better understanding of the Zendesk platform, its discovery capabilities and limitations, and how to create a proactive Zendesk eDiscovery plan. Remember that executing your plan is an ongoing process and requires constant innovation and staying up-to-date on your organization's use of the platform.
About Onna for Zendesk
With Onna, organizations that use Zendesk can centralize their eDiscovery efforts by integrating not only Zendesk, but also all of their other cloud applications in the same place. Not only does this provide exceptional eDiscovery capabilities for Zendesk users, but also Zendesk users that also happen to be Google Workspace users, Slack users, Microsoft users, and more.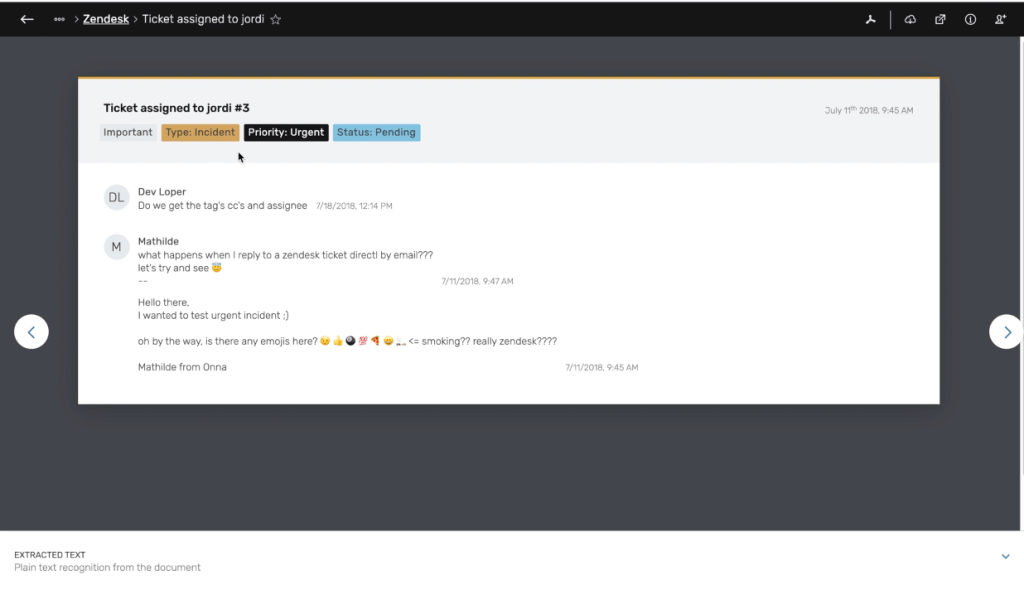 Onna's open API integrates directly with Zendesk to simultaneously collect and process all available data in real-time. Our rapid ML, indexing and OCR paired with our precise search capabilities make it easier than ever to customize your collections and avoid unnecessary processing costs. Find what you need for immediate one-off collections or sync and archive your Zendesk data to have the most up-to-date, search-ready repository of information.
To learn more about how Onna collects data from Zendesk, see here.
Back to the top