The beginner's guide to Box eDiscovery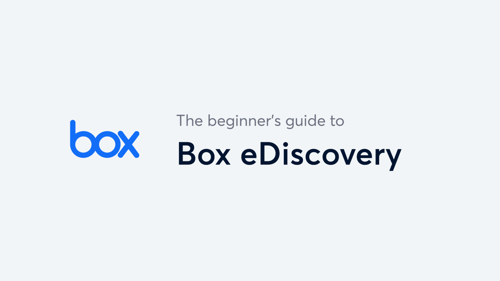 Welcome to our Beginner's Guide to Box eDiscovery — where we'll cover everything you need to know about eDiscovery for Box, the leading cloud content management platform transforming the way enterprises work. Since 2005, Box has helped over 97,000 customers and 68% of Fortune 500 companies accelerate business processes, power workplace collaboration, and protect their most valuable information. Committed to giving teams a unified experience, Box connects to best-in-breed applications like Office 365, Slack, GSuite, and more to consolidate enterprise content in one place.
As a focal point for valuable enterprise information, Box is a hot topic in the eDiscovery world. And chances are if you're reading this, Box eDiscovery is a hot topic for you too — if so, you've come to the right place. In this guide, we're breaking down how Box works, the unique nature of its data, and what your options are for Box eDiscovery.
What is Box?
Before we get into Box eDiscovery, it's important to understand what Box actually is and how it works. Think of Box as the ultimate home for all of your workplace content. Let's say you're working on a presentation in Google Slides, an invoice in Microsoft Excel, and a contract in DocuSign, all at the same time. Instead of constantly switching between tabs, missing communications with coworkers, and losing track of your progress, you can take care of it all in Box.
Box users can collaborate on multiple different files, from multiple applications without ever having to leave the platform. Not to mention, they can take care of work in real-time from any device thanks to Box's cloud-based infrastructure. It's essentially a place for teams to work in a centralized, simplified way. Now that we know what Box does, let's break down its most essential functionalities: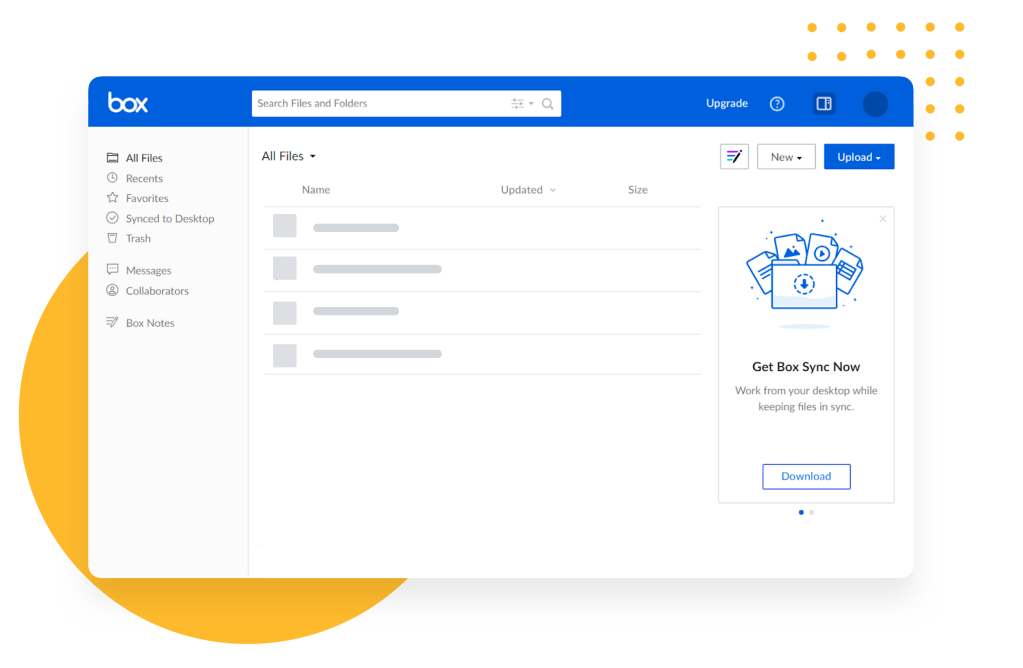 "All Files" Page
The "All Files" page in Box is essentially your home page. This is where all of your important files live, and where end-users can manage their business-critical content.
Files in Box
Box users can either upload documents from their device or create new documents in Box itself. The file types Box supports are extensive, stretching beyond the traditional documents you'd think of. From videos to presentations, to even 3D images, Box can store it all. Depending on the type of account, Box users can access previous versions of files as well as user activity to see who has viewed, edited, or downloaded shared documents.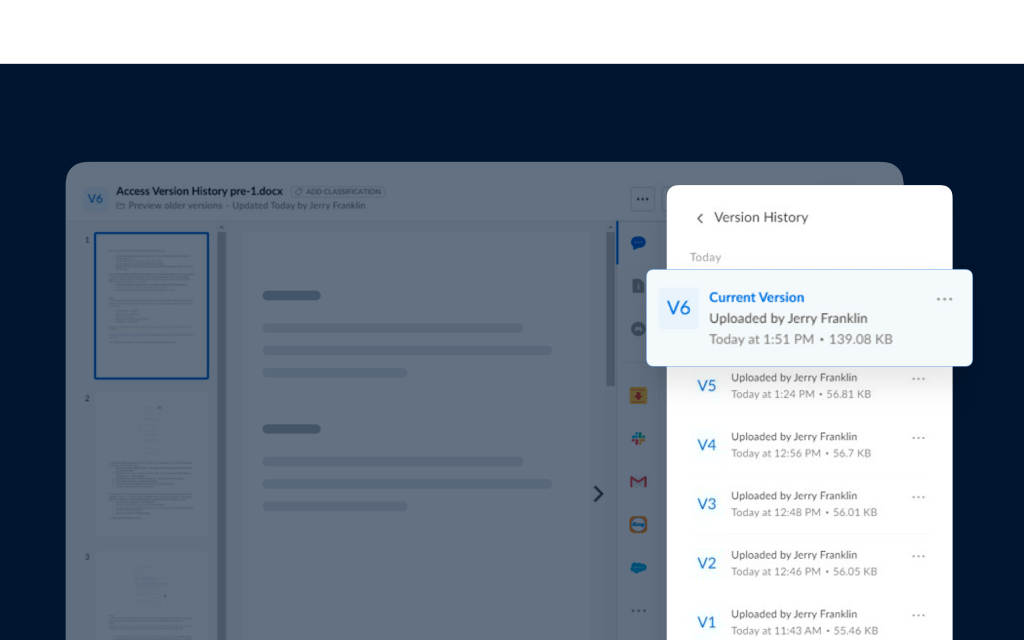 Folders
Put simply, folders help Box users organize their content. In Box, folders can be named, tagged, and imported into other integrations for optimal management. Folders can be shared with others and act as workspaces for collaboration, or remain private to individuals. Shared folders will be displayed as blue and private folders will be displayed as yellow.
Collaborators
Collaborators are people who Box users invite via email to edit and collaborate on files and folders. Collaborators can be anyone from team members, to outside parties like vendors or customers. If your external collaborators do not already have a Box account, they will automatically be prompted to create one. You can manage your Box collaborators by modifying access levels, transferring file ownership, hiding collaborators, removing collaborators, or setting a collaboration expiration date. There are seven different collaborator roles in Box:
Note: Not all collaborator roles will be listed depending on the type of Box account you have. Upgrade to higher business plans for full access.
Activity
The activity section is essentially a real-time log of all edits and comments between collaborators as well as version history on a document. The activity section can be found on the right-hand side of the preview of a document.

Box Notes
Box Notes is a document creation tool that functions natively in Box. Whether you want to start from scratch or load a template, Box Notes allows you to create new files and work on them simultaneously with other collaborators in real-time. Many organizations will use Box Notes in lieu of online licenses for outside applications like Microsoft online.
Understanding Box Search
The next step in understanding Box eDiscovery is understanding Box's search capabilities. With over 1,400 integrations coupled with thousands of files and folders, the Box platform holds a lot of data. Not only is Box data diverse in file types, user permissions, and metadata, but it's also extremely dynamic, creating multiple versions of the same file. Needless to say, finding what you need in the platform is no easy feat, making a strong search crucial for daily organization, and even more so for Box eDiscovery.
Although there are lots of methods to searching across Box, here's how users typically search from most basic to most precise:
If these search queries aren't precise enough, Box users can also conduct boolean searches, exact match searches, and save custom long-tail search queries. With so many different files from so many different apps, there can sometimes be an added layer of complexity to search. As a result, some Box users have to use these additional searches to get what they need.
The need for a powerful, forensic-level search is apparent, and in the case of Box eDiscovery, this couldn't be more true. Bear in mind that the more extensive search capabilities are only available with higher business plans. We'll get into what those look like next.
Understanding your Box plan
Now that we've covered the ins and outs of the platform, it's important to understand what each Box plan offers. So far, everything we've covered is included in Box's most basic plans, but these plans have limitations when it comes to Box eDiscovery. Box currently offers four tiers of plans for businesses: Starter, Business, Business Plus, and Enterprise. But we'll cut to the chase — only the Enterprise Suites meet the eDiscovery standards we consider essential.
If you're interested in learning more about the technicalities of each plan, head over to Box's pricing page. But if you're truly looking for the best Box eDiscovery option, look no further than Box's Enterprise Suites — Digital Workplace or Digital Business. These plans are each a bundle of six products that take the user experience to the next level through robust data storage, security, preservation, search, and insights. Here's a look into each bundle's value from an eDiscovery perspective: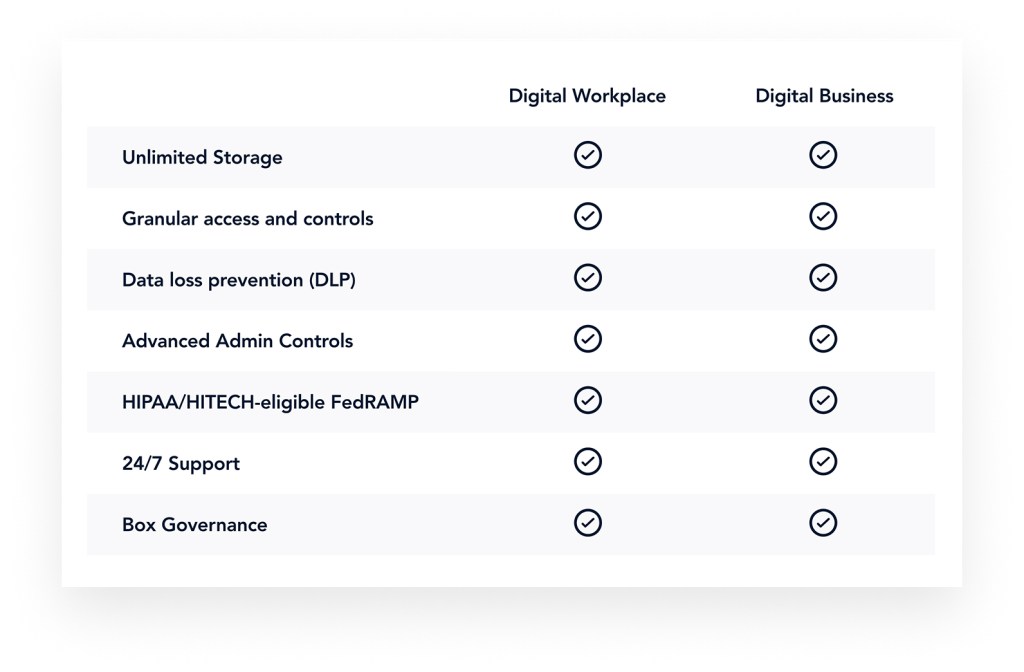 If you're asking yourself, "What's Box Governance?" The short answer is a must-have product to have for security, compliance, and of course, Box eDiscovery. Keep reading, and we'll tell you why.
What's Box Governance?
Box Governance is an information governance tool that helps Box admins secure, preserve, and classify their content. When it comes to Box eDiscovery, Box Governance is a critical add-on. This tool can be found in the Box admin console and will help you stay compliant, promote data hygiene, and maintain visibility and security across your entire Box environment. Box Governance can be broken down into three categories:
Retention policies — To help meet compliance needs, Box allows users to set global or folder-based retention policies directly in the platform. Users can select predefined or custom retention schedules to ensure nothing gets lost. Once the schedule is set, users can choose a "disposition action" or decide what happens to the content when the retention time period is up. They can also choose who gets notified of these actions. Let's say you're required to hold a past employee's information for 2 years after they leave the company, you can customize this policy based on specific folders, metadata, or new content.

Legal holds — Box's legal hold functionality allows you to comply with eDiscovery standards and protect your organization in the event of litigation. You can apply a legal hold to a specific folder or user under investigation, and Box will save all of the content they produce. Box also gives you control over who can permanently delete their trash. So for litigation purposes, you might only give this privilege to a few admins or co-admins.
Disposition controls — Box can enforce any policy your organization needs to follow by implementing disposition controls. These are guard rails set around user activity to protect the organization's most sensitive information. Whether it be managing user permissions, watermarking content, or classifying files, Box empowers admins to set built-in controls so that security and compliance are a breeze.
Box Governance in the EDRM
When it comes to Box eDiscovery, Box Governance plays a key role in the process. However, its use only goes so far in the EDRM process. Although Box Governance does a good job of preserving and collecting information, it has some limitations when it comes to its data index, which consequently inhibits processing and search.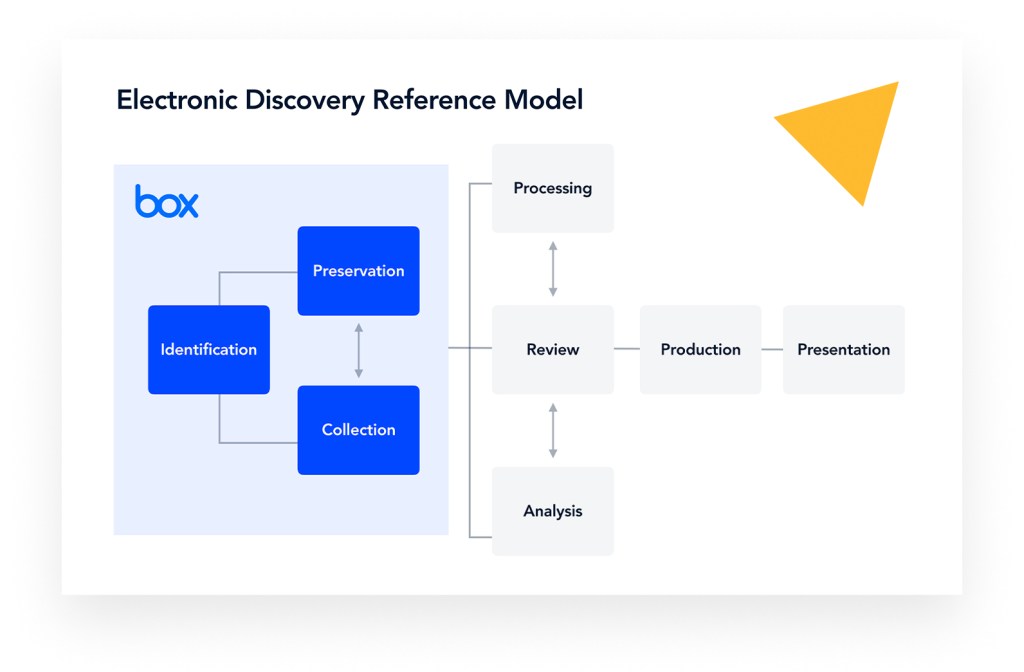 Currently, Box only indexes the first 10,000 characters of a document which creates defensibility and search relevancy issues. This also presents difficulties indexing scanned documents, PDFs, or images. Another exception to Box's indexing is that it does not index previous versions of a document, only the current version.
This presents a problem when it comes to Box eDiscovery, as previously deleted and/or edited files may be relevant evidence. Not to mention, previously existing files that contained PII (Personal Identifiable Information) can no longer be tracked down, which can cause conflict when it comes to CCPA and GDPR. But not to worry, we've come up with a proactive Box eDiscovery game plan to fill in these gaps.
Box eDiscovery Game Plan
Whether you're just starting out on your Box eDiscovery journey, or have already taken some kind of action, we believe each of these steps are crucial to employ a successful Box eDiscovery plan. However, we understand that no company or legal team is the same, so we made sure that this is an adaptive guide to fit your needs.
Step 1: Understand your needs
It seems obvious, but the first step in launching a successful Box eDiscovery plan is understanding your needs. To do this, ask yourself questions like: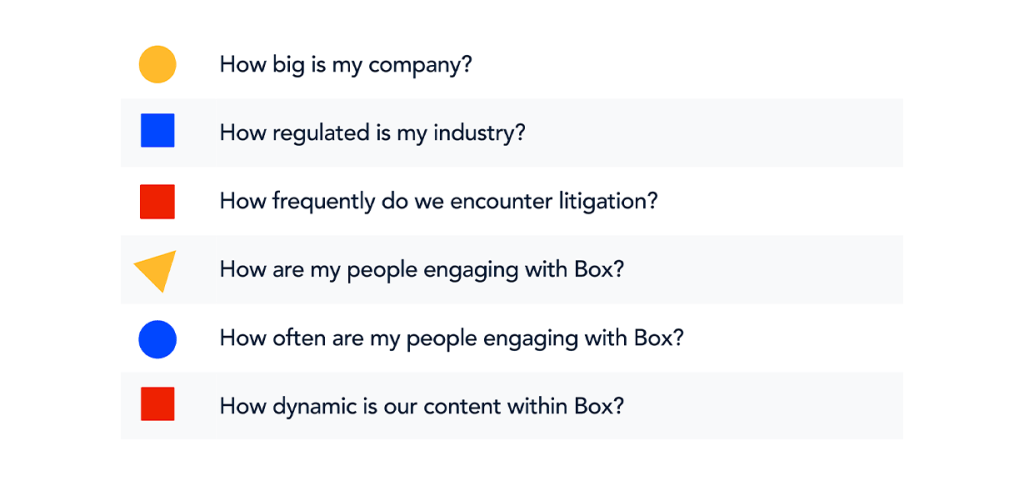 By asking yourself these questions, you can start to get a better idea of what plan of action is right for you. For example, if you come from a company of a few thousand people who regularly engage with Box, chances are you're dealing with a much larger data set and therefore, higher stake litigation. If this is the case, you know that solely relying on Box to forensically process your data won't be enough and it's time to re-assess the Box eDiscovery plan you have in place.
Step 2: Re-assess your Box plan
Once you fully understand your needs, make sure your current Box Business plan supports those needs. If you don't already have a Box Enterprise plan to help you access security and compliance controls like Box Governance, we highly recommend you do. Without it, you won't have the visibility and control necessary to form a good Box eDiscovery strategy. Take this scenario for example:

If you had Box Governance, you'd be able to leverage legal hold, user permissions, trash controls, and more to resolve this issue. This is just one example of why re-assessing your plan's capabilities is critical in forming a good Box eDiscovery plan.
Step 3: Establish a company Box policy
You should always establish a company policy for every new technology you roll out — and Box is no exception. A company Box policy is essentially an outline of expectations on how the platform should be used and how it'll be monitored. Maybe you indicate what types of files should remain confidential, what words or behaviors might be flagged or reported, and what trash retention policy is in place. Although Box's retention policies and disposition controls already do a great job of preventing misuse of the platform, educating your company on these points is always a good idea.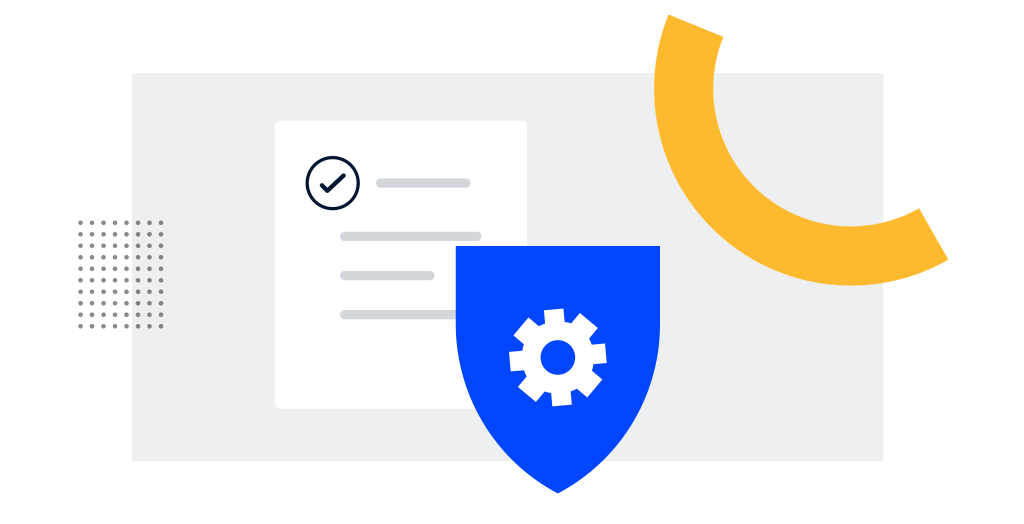 Step 4: Implement an eDiscovery Solution
The truth is that Box Governance and enterprise-level controls are only part of the solution. Even with these plans in place, you'll still face indexing limitations that can cost you big time. To ensure your Box eDiscovery plan is the strongest it can be, you'll want to implement a trusted eDiscovery solution to help you forensically process and search across your Box environment.
Since litigation happens once in a blue moon for the majority of companies, far too many legal teams feel that they're overspending on an in-house solution. However, the opposite couldn't be more true. In fact, companies waste millions of dollars waiting for litigation to strike rather than taking a proactive approach.
If you're ready to look for a Box eDiscovery solution, at the very minimum it should have: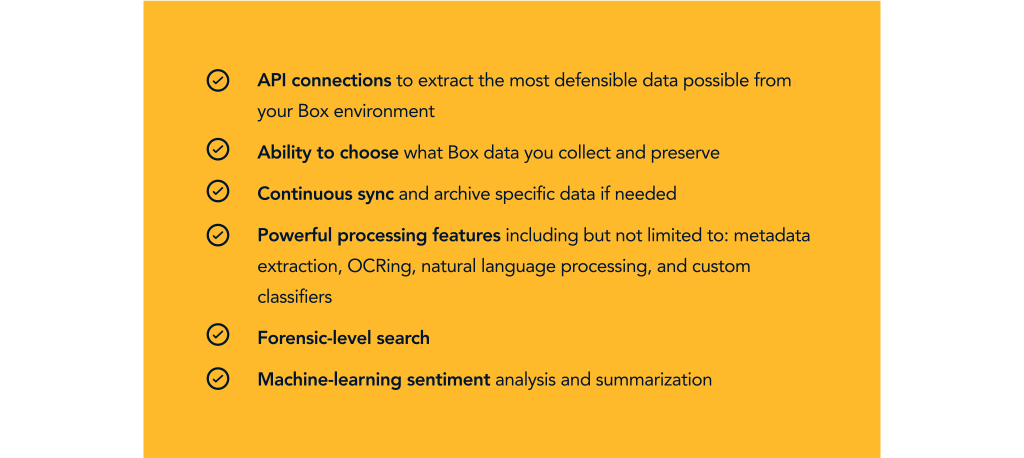 Beyond these Box-specific features, your eDiscovery solution should be able to tick off some other crucial boxes as well. Flexible deployment, top-tier security measures, and compatibility with review platforms are just a few of the top things to look for in an eDiscovery software. By bringing a Box eDiscovery solution in-house, you'll be able to increase efficiency and cut back on spending in the long run.
Step 5: Make a long-term eDiscovery and Preservation Plan
As more and more emerging apps like Box integrate with one another, the more expansive their workflows become, and the more complex our data governance gets. For this reason, it's important to have a sustainable, enterprise-ready eDiscovery solution. Ideally, litigation will rarely come up in a company's life-cycle. However, if it does arise, you'll want to think about the big picture when shopping around for a Box eDiscovery solution.
Maybe right now your priority is to find something cheap and easy for Box, but down the line, you may wish you'd considered the greatest tool for GSuite, Zendesk, Quip, and all the dozens of other enterprise applications you may use. For these reasons and more, it's best to look for a "master tool" for your entire tech stack to provide long-term value for your company.
And there you have it! You now know everything there is to know about Box eDiscovery. We hope our guide gave you a better understanding of the platform and how to create a proactive and successful eDiscovery plan.
Learn more: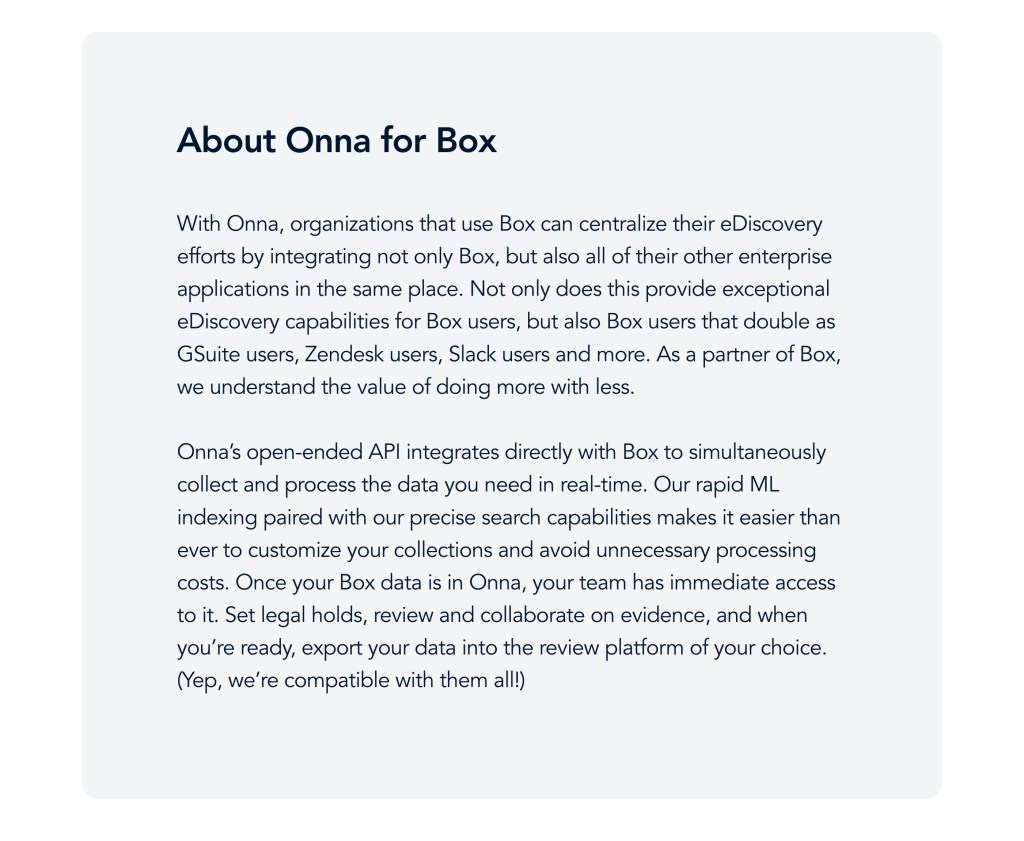 Sound like the solution you're looking for?
See also: The Beginner's Guide to Slack eDiscovery
Back to the top