Onna Named to 2022 Inc. 5000 List of America's Fastest-Growing Private Companies
Onna ranks at #690 with three-year revenue growth of 908%, making the top 15% of listed companies.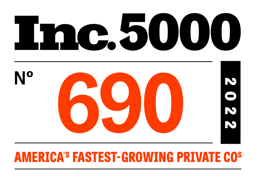 August 25, 2022: Onna, the knowledge discovery leader, today announced its inclusion in the Inc. 5000, the most prestigious ranking of the fastest-growing private companies in the United States. Onna ranked at #690, demonstrating three-year revenue growth of 908% and making the top 15% of the 2022 listing.
The annual Inc. 5000 list represents a unique look at the most successful private businesses, highlighting companies that have achieved a significant revenue growth from 2019 to 2022. Facebook, Chobani, Under Armour, Microsoft, Patagonia, and many other well known names gained their first national exposure as honorees on the Inc. 5000.
Onna's growth since 2019 is driven by a number of notable milestones – tripling in headcount over the last two years alone; growing executive leadership from a team of two to a team of nine; achieving strong customer retention while signing dozens of new customers, now with more than 100 to date; and implementing more than 50 new product features and enhancements. In 2020, Onna also secured Series B funding of $27M, bringing its total investment to over $50M.
"The past three years have been transformational for Onna, and being named in the top 15% of the Inc. 5000 is a testament to the many successes our team has achieved – from building a powerful software platform, to delivering valuable solutions to our customers, and making progress toward our vision of making organizational knowledge more accessible and useful," said Kelly Griswold, Chief Operating Officer of Onna. "Our growth journey is only just beginning. I look forward to seeing all that we will accomplish in the next three years as we continue to expand the value we provide to a growing number of customers."
Onna has also been recognized by several other industry award programs this year, including the International Business Awards (Silver Stevie® Award for Software Company of the Year, Medium Size; and Bronze Stevie® Award for Most Innovative Tech Company of the Year, Medium Size), Great Place to Work® and Fortune Magazine (Best Workplaces in New York™), and Built In NYC (100 Best Places to Work).
–– ends ––
About Onna
For organizations, knowledge is power. Onna accelerates the discovery of knowledge, enabling businesses to gain valuable insights from the ever-growing amount of fragmented information that exists across the vast number of collaboration, communication and content applications. By connecting information silos, organizations can unify, protect, search, and build on top of their proprietary knowledge. With Onna, organizations save time and money, reduce risk, and use knowledge to be more competitive.
Onna's Knowledge Integration Platform connects to Slack, Microsoft 365, Google Workspace, Confluence, Dropbox, Zoom and many others, to enhance activities like eDiscovery, information governance, knowledge management, and identifying private and sensitive data sharing.
With teams across North America and Europe, Onna supports some of the world's leading companies, including Dropbox, Electronic Arts, Lyft, Better, Carvana, and NewsCorp. Onna has raised more than $50M from investors, including Atomico, Dawn Capital, Dropbox, and Slack Fund. To learn more, visit www.onna.com.
Media Contacts
pr@onna.com
onna@thepr.network
Back to the top