Slack exports for eDiscovery: What are my options?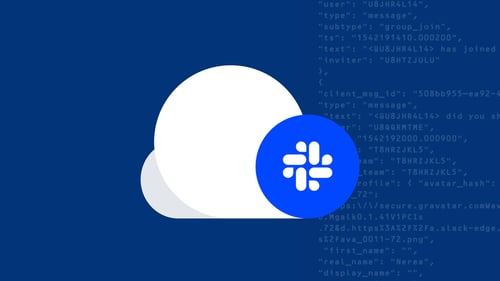 Wondering how to get your hands on a Slack export for eDiscovery? You've come to the right place. Whether you need to export a channel, private messages, or a bit of everything, we're here to tell you what's possible (and how to do it).
But first things first — let's bust the myth that all Slack exports are the same. This common misconception sends a lot of legal and IT teams down an unnecessary, time-consuming path that lands them right back at square one. The good news? We have the right information to help you avoid it. Let's get into it.
What's included in a native Slack export ?
The short answer is, it depends. The data you're able to retrieve in each native Slack export looks different for every plan. So before you get too far in the weeds, make sure you know what to expect. Whether you have a Pro, Business+, or Enterprise Grid plan, here's what data is available to you: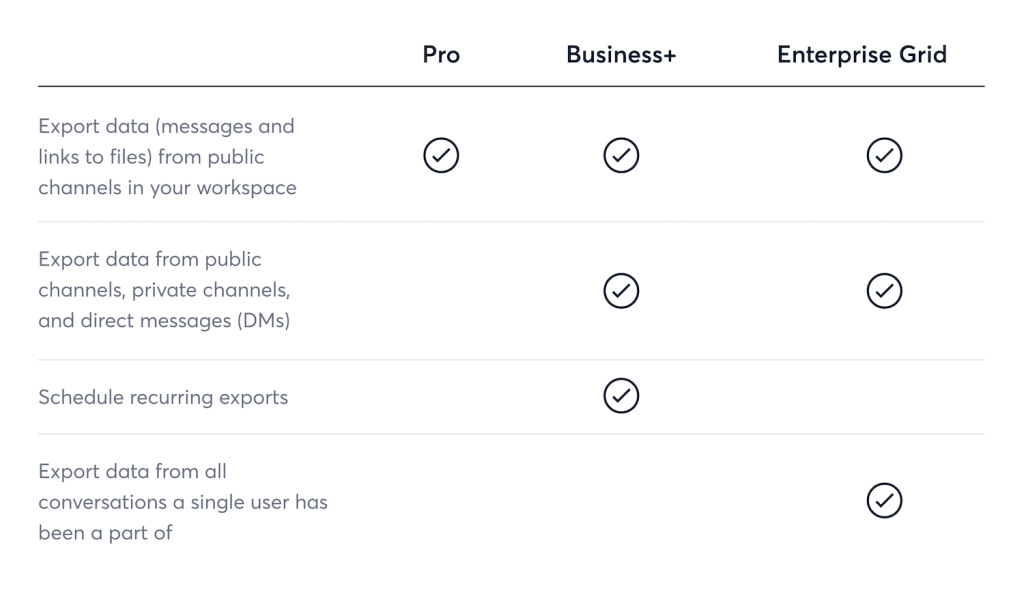 Tip: Get familiar with your message and file retention settings to scope out any potential roadblocks.
Outside of this overview, there are some practical limitations and nuances to be aware of, which we'll get to next.
How do I retrieve a native Slack export?
Slack has step-by-step instructions on how to export data from public channels for each plan. However, to export data from any private channels or direct messages, you must first apply to have them exported. Slack states that it needs proof of "(a) valid legal process, or (b) consent of members, or (c) a requirement or right under applicable laws in order to export data" in order to grant approval. For security and privacy reasons, Workspace Owners and Org Owners are the only ones who can apply, so be sure to get in touch with them if you plan on exporting directly from Slack.
Tip: Workspace Owners on the Business+ or Enterprise Grid Plan can apply to access a self-service tool that allows them to export all channels and conversations in their workspace. Enterprise Grid Workspace Owners can also request to access data from a single user.
Even if you're approved to export data, the only way to cull the number of messages and file links you have to filter through is by specifying a date range. Besides this, Slack's only other granular export features are to collect only public channels, or, if you're an Enterprise Grid customer, a single user's data.
When all is said and done, the real work begins once you've obtained your Slack export. Depending on what type of file you're working with, this stage can present some unique challenges for eDiscovery.
How are native Slack exports formatted?
All native Slack exports (with the exception of a single user's data export) are downloaded in JSON format. Generally speaking, JSON formats aren't impossible to decipher, however, when collecting defensible data for Slack eDiscovery, comprehensive formatting is crucial. Although Slack provides solid guidance on how to read Slack exports, the truth is that even the most diligent legal teams struggle to find what they need — especially when searching through conversations that are as dynamic and visually contextual as Slack.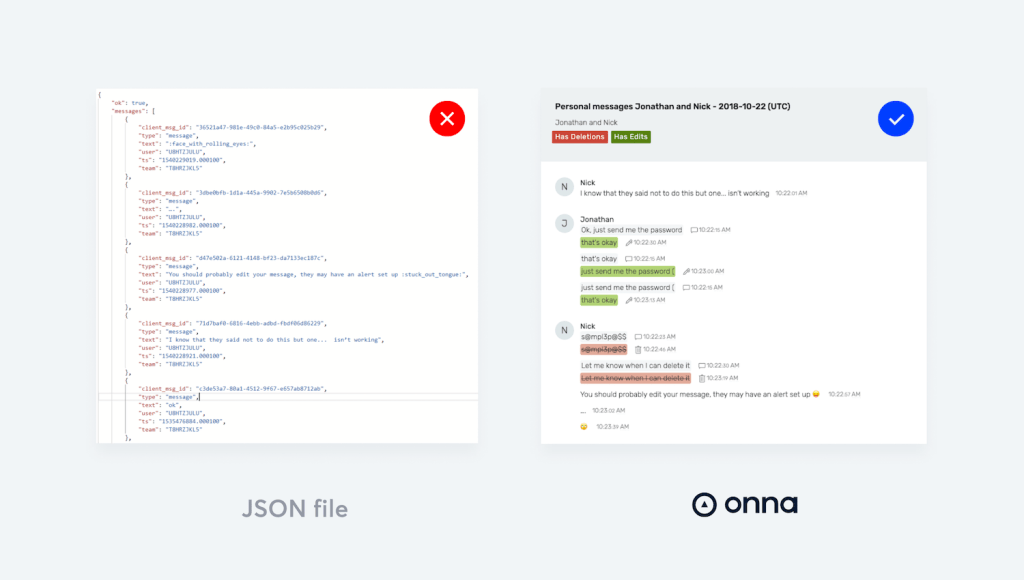 When we take its JSON formatting and limited ability to reduce data volume into consideration, Slack's native export functionality alone can't fulfill many companies' eDiscovery needs. To conduct a defensible collection and ensure effective early case assessment, you'll need to get your hands on a Slack export that mirrors conversations as they actually appear in the platform. Read on to find out how.
Alternative Slack export methods
If you find that none of Slack's native export options meet your needs, there is another option that we recommend exploring: Slack's Discovery API. When enabled, this API can seamlessly transfer data to an eDiscovery solution that can process JSON files into a format that shows messages and files as they occurred in real life. At current, this API is only accessible to Org Owners of Enterprise Grid accounts.
If you're already an Enterprise Grid customer, great! You can get in touch with Slack support to learn more about this option. However, if you're not an Enterprise Grid customer, it might be time to re-evaluate your needs. Maybe today you need to produce a one-off Slack export for an urgent deadline and are prepared to jump through the hoops of native export limitations; but if you think you'll find yourself in this position again, we urge you to think about the bigger picture.
Whether you need to access data on the fly for investigations or maintain a search-ready archive for compliance, native Slack exports will only get you so far. With the right people, processes, and tech, you can create a proactive Slack eDiscovery strategy to ensure long-term success.
We happen to know a thing or two about intelligently processing Slack data — if you're curious about how we help with Slack eDiscovery and so much more, reach out!
Back to the top