Ask an expert: When is the right time to invest in an eDiscovery tool?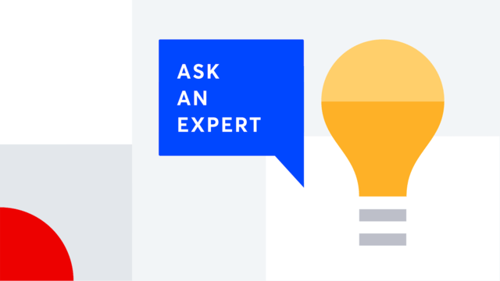 When litigation strikes, having an eDiscovery tool becomes non-negotiable. But if you don't already have one, you'll find yourself scrambling for something quick and effective to put out the fire. The problem? That fire is already blazing.
If you're lucky, you'll be able to find the needle in a data haystack, export it, and review it without a hitch. But the reality of haphazardly buying an eDiscovery tool looks much different – data processing issues arise; time-consuming, manual search ensues; and, before you know it, you've surpassed your ideal budget and risk missing court deadlines.
So when is the right time to invest in an eDiscovery tool? How do you make the case to those holding the purse strings? And how do you measure the ROI of a tool you're actively investing in?
We brought these questions to three industry experts: Steve Gage, Global Director of eDiscovery at Accenture, Jeanne Somma, CLO and Global Head of Review at Lineal Services, and Ricardo Brums, eDiscovery and Forensic Technology Lead at Facebook. Here's what we learned:
1. Start by taking a hard look at your needs
When asking for any shiny new technology, you must always be prepared to answer the question "why do you need it?" Although your reasons may vary, the gap you're trying to fill should be clear. Whether you're struggling to meet regulatory deadlines or need to run faster internal investigations, an eDiscovery tool can pay off tenfold. But it's important to identify those needs at the outset to choose the right tool.
Start by taking a hard look at not only your eDiscovery function but also your business as a whole. "Litigation profile matters. If you're a large, highly regulated company, you may need a lasting solution. If you're a startup chasing an IPO or undergoing M&A, you might need it even more." says Jeanne, who's taken her eDiscovery expertise both in-house and into the consulting world. "It also depends on how advanced your legal ops group is. For example, if your department is entrenched in business units and IT, you're much more likely to work on the left side of the EDRM and be cognizant of making, storing, and organizing data." Whatever your situation, being honest about who you are and what you need (both today and tomorrow), can set you up for long-term success.
2. Demonstrating ROI isn't a straight and narrow path
Even if your needs are clear and your pockets deep, bringing in an eDiscovery tool can still be a hard sell. "Convincing your key stakeholders of the need for an eDiscovery tool is essential; yet it can be a challenging prospect, regardless of your budget allocation and due diligence efforts," says Ricardo, who advocates for streamlining the EDRM through in-house tech. "Point to something tangible, like the number of documents that go out the door for review, when relying on your team vs. a vendor. Whether it's fewer dollars spent on hosting or processing, it helps build your case."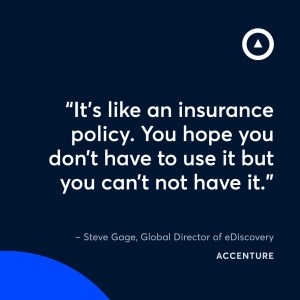 However, demonstrating ROI isn't as easy if you haven't experienced the pain of struggling to find your data in a critical moment. This is especially true for fledgling legal ops and eDiscovery programs. "It's like an insurance policy," says Steve, who has helped shape Accenture's eDiscovery program since its inception. "You hope you don't have to use it, but you can't not have it — because if you don't, the implications are too great."
If you don't have hard numbers to fall back on, our experts say that first-hand experience is the next best thing. Whether it's from past job experience or a lawsuit encountered by a similar company, show your team what could happen if you're not prepared when litigation strikes or regulators come knocking. Drawing from personal experience can make a strong case for proactive investment.
3. A tool that benefits the entire business is an easier sell
The right eDiscovery tool won't just come in handy in doom-and-gloom moments. In fact, it can have benefits that extend well beyond the legal department. By cutting down the time it takes to figure out where data lives, eDiscovery teams can extract actionable insights and help with mission-critical business needs, such as due diligence, audits, and data privacy. "It frees up our time to be a better partner to the different legal and business verticals we need to interact with," says Ricardo. "Overall, it's better for everyone."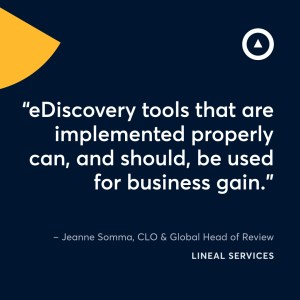 In Jeanne's words, "Data is money. eDiscovery tools that are implemented properly can, and should, be used for business gain." Indeed, in our cloud-based world, data lives everywhere, so having a tool that allows you to find and control it minimizes its risk and maximizes its value. "It's super beneficial to be able to say, 'I need this tool for our job, but you can also use it'" adds Jeanne. "Anything you purchase should have multiple uses and this is why the smartest companies have business-minded legal ops."
4. Once you've implemented the right tool, continue to show what it can do
Validation for your eDiscovery tool doesn't stop after purchase. You'll want to keep a record of all of the ways it's improving your processes and share this with your department head or supervisor. Not only does this signal a sound investment, but it also builds confidence when it comes time for a renewal and/or expansion. "Once you have it, don't just rest on your laurels," says Steve. "Show all the ways it's continuing to save you money and time, and lean on your vendor to demonstrate ROI where necessary."
Keeping a record of success can also serve to demonstrate a proactive legal team's impact on the business at large. Although often thought of as a risk-mitigation function, legal departments equipped with the right technology can also add real business value. "It's an ongoing, maturing process to gain a more unified perspective into our data," Ricardo explains. "To get to the point of responsible data management while honoring compliance commitments, you need the right tech to get a holistic view." Think of your decision to purchase an eDiscovery tool not as the culmination of your efforts, but rather as a new beginning.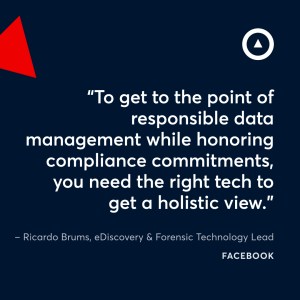 5. Rethink what eDiscovery means for your organization
For the initiated, eDiscovery can seem like a natural launchpad for a strong information governance program — after all, you can't do anything with your data if you don't first know where to find it. However, very few companies start with an eDiscovery function from day one.
"Ideally, you'd be mapping data, tracking information flows, and traversing networks from the start," says Ricardo. "Yet, eDiscovery is usually something that's bolted on later. It's not at the forefront of minds because it wasn't that way before, but it will become more common to have an established program from the outset as industries catch up to the times."
eDiscovery at its core is about finding the information you need, which is actually something the entire organization can benefit from. So the question is, how will you scale this function? Although the answer might be loaded with complexities, one aspect remains clear: by implementing eDiscovery technology that gives you greater visibility and control over your data today, you'll be at the forefront of responsible data stewardship tomorrow.
We hope you enjoyed learning from the best in the business. If you have a burning question that we should cover in a future post, let us know here!
---
About Steve
Steve Gage is the Director of Electronic Discovery at Accenture. He has over 15 years of experience in the legal technology industry. In his role, he acts as the primary liaison between Legal and IT with global responsibility for managing the Company's data preservation and discovery processes for Accenture and its nearly 550,000 employees in more than 50 countries.
Steve graduated from Minnesota State University, Mankato. He lives in Rochester, Minnesota with his wife, Deanna, and their two children, Colton and Cayley. In his spare time, he coaches whatever sport is in season for his son and spends as much time as possible boating.
About Jeanne
Jeanne Somma is the Chief Legal Officer and Head of Managed Review at Lineal Services. She has over a decade of experience in the legal industry, with strong expertise in eDiscovery, analytics application, and consultation regarding defensible uses of technology in document review and production.
Jeanne is a licensed attorney and has studied law both in the US; receiving her LLM in International Business and Trade from Fordham University School of Law and her J.D. from Hofstra University School of Law; as well as abroad at both the University of Sydney Law School and the University of Nairobi School of Law. She is admitted to practice in New York and New Jersey.
Jeanne writes and speaks frequently on topics such as best practices for incorporating analytics into discovery workflows, developments in the laws around data privacy and cross-border discovery, and strategies for reducing cost and improving efficiency in discovery.
About Ricardo
Ricardo Brums is a digital forensics and eDiscovery professional with ten years of consulting and in-house experience, based in Los Angeles, CA. In his current in-house role as an eDiscovery Forensic Technology Lead Ricardo leads preservation and collection efforts of unstructured data, from scoping to post-collection processing and analysis, for a wide range of legal matters and investigations on behalf of Facebook and the family of apps.
As an eDiscovery subject matter expert, Ricardo advises and partners with merits counsel, outside counsel, and internal cross-functional technical teams to ensure deliverables are accurate, compliant, relevant, and ship securely to meet legal docket deadlines. Ricardo also leads proactive process improvement initiatives alongside his fellow eDiscovery Forensic Technologists. This includes streamlining technical workflows and documentation, and testing and validating tooling and other platforms to ensure they best meet the needs of his team, and the Company more broadly.
Back to the top