Why best-of-breed cloud apps are the future and what you can do to prepare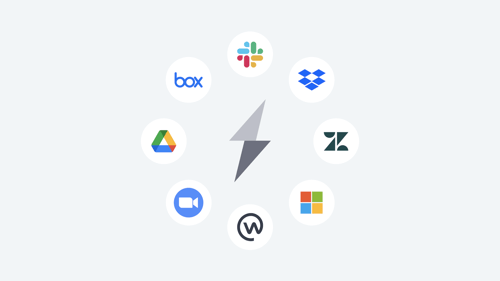 The slow adoption of remote-working culture was thrown out the window in 2020. Due to the mass work-from-home wave, the identification and adoption of cloud-based apps happened almost immediately. By June 2020, 92% of organizations' IT infrastructures were already in the cloud, with an estimated $1.3 trillion in IT spending going towards cloud adoption by 2022.
As workers all over the world move away from the office and into their homes, (some, permanently) a mix of best-of-breed cloud apps such as Zoom, Slack, Microsoft Teams, and Google Workspace have become the tools of choice.
Why? Because best-of-breed technologies are, by definition, the champions of their domains. Whatever they do, they do really well. And, with a cloud-based, secure, and flexible infrastructure, they're hard to resist in this work-from-anywhere climate. But this wasn't the case until fairly recently.
Not all tools are created equal
Historically, many organizations relied on a single-suite software, like Microsoft, to provide a range of tools in an integrated system. Upsides of the single-suite include users having one interface to learn; a native integration between applications allowing for seamless data transfer; and the organization having only one vendor relationship to manage.
Although the "simplicity" of a single-suite solution was once appealing, the downsides are real and growing. Within single-suite softwares, not all tools are created equal — change requests are always lagging behind more agile providers; enhancements are always "in the next release." On-premise systems require costly updates and are quickly out of date. Integrations are expensive and can be de-prioritized by leadership that does not understand their importance. All of which leads to employees using risky and possibly non-compliant workarounds to get the job done.
Fortunately, best-of-breed technologies address many of these concerns. They are not created to be one overarching solution. Rather, they are intended to be excellent at what they do. They know their role and are designed to connect seamlessly with other key systems. Enhancements and new features are the name of the game, as these platforms constantly evolve to meet the needs of the businesses they serve. According to IDC, organizations with six or more integrated apps saw a 75% increase in productivity. You won't see those same results with a single suite tool.
The data question
While the shift away from single-suite tools enables agile communication and collaboration, data readily becomes trapped in silos. One department might use Google Workspace as their file-sharing platform, while another uses Dropbox. One team deploys Slack for messaging, while another uses Teams. The list goes on.
Not to mention that the challenge of managing data proliferation continues to grow exponentially.
In 2020, 2.5 quintillion bytes of data were produced every day and, according to the World Economic Forum, that number will increase to 463 exabytes per day by 2025. Now imagine these numbers in scattered silos — the challenge for businesses and their legal departments becomes finding, securing, and controlling a runaway train of information.
So the question is: How can businesses benefit from the advantages of cloud-based tools while mitigating the risk that comes with data fragmentation?
Going with the flow
The fact is that best-of-breed tools are growing at such a rate that going against this new paradigm, rather than with it, simply won't work. Companies shouldn't have to sacrifice efficiency and innovation for governance and control. Instead, they need to begin structuring people, process, and technology to gain the best of both worlds. Here are some key considerations for legal, IT, and other organizational leaders who wish to take a comprehensive, forward-thinking approach to best-of-breed collaboration apps.
Are your policies up to date?
Giving your employees the best of the best along with updated device and app policies may reduce the use of unsanctioned devices and apps, which creates cybersecurity and legal risks. When workers can take full advantage of their tools, they're happy to work within your established boundaries.
Are you making cybersecurity-driven decisions
IT must have a place at the table when deciding on which cloud-based apps to implement.
You can't rely on traditional network-based security models with a remote workforce. Instead, you can implement best-in-breed apps that emphasize security, enabling the transition to identity-based security.
Are you prepared for purposeful integration?
You may lose sleep over potential discovery and data subject access requests related to the California Consumer Privacy Act, the California Privacy Rights Act, and the EU's General Data Protection Regulation, but the good news is that it's now more possible than ever to connect disparate systems in a centralized location.
Once your IT, legal, and other business stakeholders implement a way to merge data from several sources accurately, discovery and DSARs aren't any more challenging than if you had a single suite tool.
Curious how Onna helps centralize cloud-based apps for eDiscovery, information governance, and more? Get in touch!
Back to the top