Expedite your legal hold process: Say hello to Onna eDiscovery In-place Preservation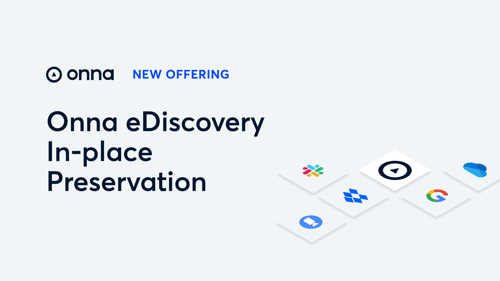 The growth of cloud applications brings with it an increasingly complex challenge for IT and legal departments to execute efficient and consistent preservation across all platforms. With today's distributed work environment, the necessity of creating seamless workflows that help prevent deletion and alteration of data, expedite the collection process, and save time managing multiple holds is more important than ever.
At Onna, we're all about making work easier. With our newly launched Onna eDiscovery In-place Preservation for Slack and Google Vault, you can execute real-time preservations across collaboration, communication, and content applications through a single action from within Onna.
Real-time preservation will speed up your legal hold process
Finding and managing the data you need is growing more difficult as digital content continues to spread across workplace applications and accounts. This is heightened even more due to the fact that data is constantly being created, moved, modified, and deleted.
Today, there are an average of 89 applications deployed within most organizations, but that number increases to 187 in organizations with 2,000 or more employees. This trend complicates the legal hold process if preservations are executed and managed on an individual basis. The process will also be unwieldy and time-consuming since there are often many custodians and a variety of file types involved. This puts data at risk of being intentionally or accidentally deleted or modified — or missed entirely — leading to potential spoliation of evidence.
"Two of the biggest concerns attorneys have with using technology to preserve targeted data is the lack of consistency in the execution of preservation across all applications, and the lack of trust that all data has been adequately preserved within those applications," says Jose Lazares, Chief Product Officer at Onna. "By enabling preservation management through Onna, targeted data within source systems is preserved with a single click to provide a consistent and defensible legal hold process that attorneys can trust."
Onna eDiscovery In-place Preservation simplifies the legal hold process with real-time preservation by allowing IT and legal departments to simply upload a list of targeted custodians into Onna eDiscovery, select their applications, and execute preservations across each source with one click.
4 reasons why Onna eDiscovery In-place Preservation is a game-changer
Here are four ways that our new In-place Preservation feature will simplify your workflow.
Efficiency: Reduce manual work and save time by unifying the legal hold and preservation process for all applications and targeted custodians into a single step.
Real-time holds: Place holds in real-time, giving you time to validate which custodians are relevant to the case before a collection.
Centralized management: Preserve data once and manage holds easily from directly within Onna.
Quicker and easier downstream collections: Enjoy peace of mind knowing that subsequent collections will be efficient and defensible — once in-place preservation is completed, you will be able to search, cull, and export the resulting data set to your preferred review tool for further analysis.
Onna eDiscovery In-place Preservation currently supports Slack and Google Vault, with Microsoft Office 365 and Box coming soon.
Get started
There's no setup required, just head to your Onna account. To learn more, visit our help center.
Back to the top