Best-of-breed vs. end-to-end: Which is right for your business?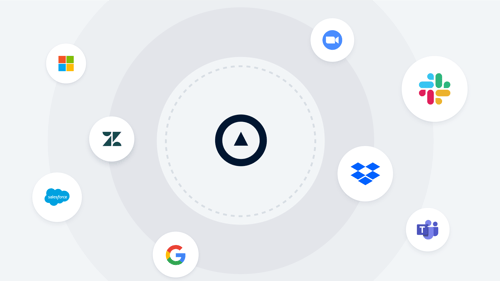 The fiery "best-of-breed vs. end-to-end" debate is one that is still ongoing. Previously, end-to-end solutions reigned supreme, as they offered various capabilities within a single platform. Today, many organizations are looking to custom technology stacks to provide expert solutions, flexibility, and control. But the question still remains: are organizations better served by committing to an end-to-end solution or by adopting a best-of-breed approach?
What are end-to-end solutions?
Often referred to as "all-in-one," end-to-end solutions combine a host of tools and capabilities into one integrated system. The upsides to this approach include a single point for data collection, easier automation of workflows, one vendor relationship to manage, and greater visibility and control over organizational data.
Although an end-to-end solution might sound appealing at the surface level, there are several downsides worth mentioning, including costly implementation, limited customization, and decreased functionality. After all, no individual system can be good at everything (more on this later).
What is best-of-breed technology?
Best-of-breed technology offers companies the flexibility to pick-and-choose specialized tools that serve specific purposes. Leading identity platform Okta refers to best-of-breed technology as "the leading applications, systems, or software in a niche or category." For example, a company may purchase Workday for HR, Slack for collaboration, Zoom for communication, and Google Workspace for content. In this situation, it is advantageous to use best-of-breed applications as each serves a dedicated business function.
The benefits of taking a best-of-breed approach typically include speedy implementation and adoption, user-friendly interfaces, advanced functionality, and, perhaps most important, the ability to integrate with other best-of-breed solutions.
Let's take a closer look.
The best-of-breed approach in action
Let's take marketing for example. The idea of an end-to-end solution for a marketing team doesn't exist in today's world. Marketers leverage several technologies to perform business activities. Common components of a marketing tech stack include:
But these tools aren't reserved exclusively for marketing. While CRM platforms support marketing efforts, they also support sales, customer success, and even product management. In the marketing space alone, 34% of companies rely on a best-of-breed tech stack while 27% rely on single-suite vendors. It's likely these numbers will only increase as organizations continue to implement new ways to support remote and distributed workers.
What does this mean for Information Governance and eDiscovery?
As businesses move away from legacy and single-suite solutions to customized technology stacks, the trend toward a best-of-breed approach is expected to evolve. But while these apps are gaining traction, they're also creating huge volumes of siloed data, which poses a problem for organizations who haven't folded that data into their information governance and eDiscovery workflows.
In a Forrester survey commissioned by Atlassian, it was found that among 250 decision-makers responsible for collaboration initiatives at companies with $500M+ in annual revenues, at least half explicitly prefer best-of-breed technologies while less than a third of respondents said they preferred to only buy from one vendor. Additionally, 83% of tech leaders say that cross-functional collaboration is critical for successful software development.
Yet, few organizations have the culture, process, and tools to support effective and open collaboration.
So what's the solution?
Think in threes: people, process, and technology.
The most important step to a sound IG program is knowing what data your organization creates, how it is collected, where it lives, how it is protected, and how it is being used. Knowing this information has become critical to conducting efficient collections and investigations without breaking compliance, ultimately leading to a more robust IG framework.
When taking this approach, it becomes apparent that an end-to-end solution for the business functions of IG and eDiscovery will fail to provide optimal support. The Electronic Discovery Reference Model (EDRM) is a good example of why. Aside from IG, which is its own discipline, there are eight distinct phases of eDiscovery:
Identification
Preservation
Collection
Processing
Review
Analysis
Production
Presentation
Can an end-to-end solution provide the best support for each function within that entire lifecycle? Put simply, no. Separating IG from the equation, no single solution can provide comprehensive support for the variety of eDiscovery functions that can include:
Preservation and legal hold
Collection from a variety of data sources
Processing
Early case assessment
Analysis
Review management and production
Presentation at case proceedings
When looking at it through this lens, the idea of end-to-end eDiscovery isn't feasible, especially in today's rapidly changing business climate.
But what about end-to-end eDiscovery solutions?
The argument made by most providers who promise an end-to-end solution is that you don't have to deal with any integrations to use their platform. While this sounds ideal, there are two key issues with that claim:
1) Many end-to-end solutions are a combination of various solutions that have been acquired from other companies and cobbled together, so they're not truly end-to-end.
2) We're seeing more and more solution providers adopt a best-of-breed approach by partnering with other solution providers who excel in specific areas and then creating seamless integrations between their products.
When you look at it that way, the best-of-breed and end-to-end approaches are essentially the same, except you truly get the best tool for the job with best-of-breed technology.
Begin aligning your people, process, and technology
Many legal and IT professionals view cloud applications as a double-edged sword. On one end, specialized tools help people do their best work. On the other, these same tools that are boosting efficiency are simultaneously adding more data sources to keep tabs on.
The good news? You can overcome the challenges of cloud eDiscovery by using the right approach — and we've got you covered.
In our eBook, "eDiscovery in the cloud: Aligning your people, process, and technology," you'll learn how to put a forward thinking-based framework into action to optimize your people, processes, and tech so you can feel confident about finding the data you need long before urgent matters arise.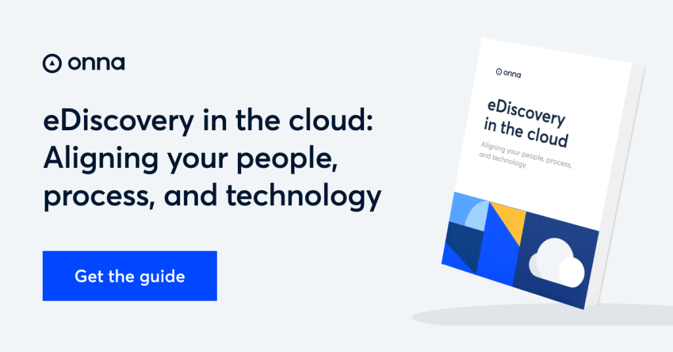 Back to the top