Onna appoints new CPO and VP of Product Platform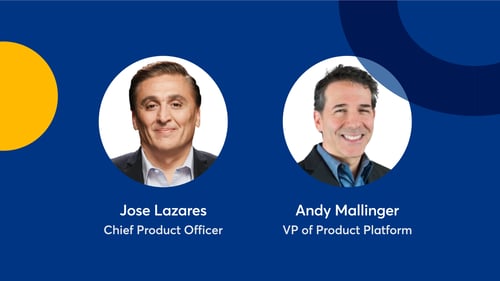 We are thrilled to welcome Jose Lazares as Chief Product Officer and Andy Mallinger as Vice President of Product Platform. Jose will be leading product strategy and management, and accelerating the delivery of Onna's Knowledge Integration Platform and enterprise solutions. Andy will have overall responsibility for expanding our platform's core services, connector ecosystems, and developer capabilities. Both Jose and Andy will join the Onna executive team.
Jose Lazares joins us with more than 20 years of experience in building, delivering, and selling cloud-based software and technology platforms. In his previous role as Senior Vice President of Product Management and Innovation for Intapp, Jose developed and led the company's industry cloud product and platform strategy. His dedicated leadership to Intapp's vision helped scale the business from $50 million in revenue to over $200 million in less than five years and guided the company through several product launches, acquisitions, and a successful IPO. Jose has also led product development and go-to-market teams for Cisco Systems, Thismoment, Avid Technology, and Oracle, with a focus on building integration, process, and automation platforms.
"Onna has an incredible opportunity to become the modern leader in knowledge discovery with an integration platform that helps organizations make their proprietary information accessible, useful, and private, and generates knowledge to drive positive business outcomes," says Jose. "I am honored to be a part of bringing this vision to life, and applying my passion for building transformative products to help accelerate Onna's next phase of growth."
Jose earned a Bachelor's degree in Political Economy from the University of California, Berkeley, and an MBA in Marketing and Supply Chain from Harvard Business School. He lives in the San Francisco Bay Area with his wife and five children and enjoys watching the Warriors and Raiders, running, and cycling in his free time.
Andy Mallinger brings over two decades of expertise as a strategic software product management executive with a background in marketing for enterprise and consumer markets. He joins us from his most recent position as Vice President of Product for OpenText, where he led the technical vision, growth, and development of the Webroot and Carbonite security platforms. His experience spans both startups and small-to-medium-sized businesses, in which he has successfully delivered over 20 new products to market. Prior to OpenText, Andy held senior product roles at Carbonite, Webroot, Unit Group, and iovation.
"I'm thrilled to be joining the Onna team," says Andy. "The Onna platform presents incredible opportunities for innovation and leadership in enabling customers to turn information into knowledge. I've also been incredibly impressed with the company's values and culture, and the chance to help an already strong product team focus and manage growth in a dynamic new segment is incredibly exciting!"
Andy earned a Bachelor's degree in Computer Science and Economics from Denison University and an MBA from Northwestern University Kellogg School of Management. When not building product, you can find Andy with his family and friends in the mountains of Boulder, Colorado, where he enjoys hiking, biking, and fishing.
Media Contacts:
Back to the top