Ask an Onner: Shannon Smith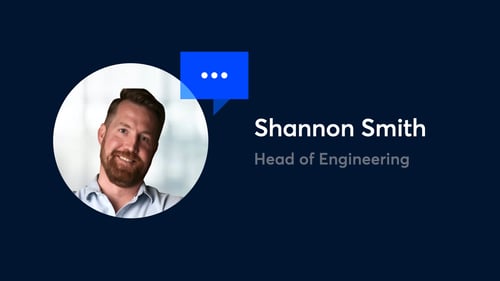 Welcome to the third installment of our Ask an Onner blog series, where we put the spotlight on the smart, driven, and passionate people who make Onna what it is. (In case you missed them, catch up on our conversations with Pavel Pratyush and Allison Keane.)
Tell us a bit about you and your role.
Shannon: My name is Shannon and I am the Head of Engineering here at Onna. I joined the company in April 2020. I describe myself as a people-centered engineering leader because I like people more than I like software. I happen to be pretty knowledgeable about software, but my passions lie in helping teams come together to achieve things.
I was brought on to help grow and develop our Raleigh office. My role was to find great talent and grow the team, but also help the folks who are already here to best make use of their skill sets and passions to achieve our collective goals. Now, I get to do that across our global engineering team.
What drew you to Onna originally?
Shannon: The opportunity, more than anything. I look at my career as a series of tours of duty (I stole that from The Alliance — a book by Reid Hoffman and Ben Casnocha.)
The concept is that you're going to have a series of jobs where you are going to be deployed into new situations and have to make use of all your skills, but you're also going to walk away from that with new skills. The idea is that you compound these skills over time. For me, the next tour I was looking for was wanting to manage managers.
Coming to Onna was really, especially in the Raleigh office, an opportunity to go back as a smarter version of myself and relive some of the growth that I had at my last startup, where I went from eight engineers up to around 30 engineers. Now, just in Onna's Raleigh office, we're looking to do roughly the same thing: take a small team and grow it.
At Onna, we all have a wide range of experiences, identities, and backgrounds. How would you say that informs the work we do?
Shannon: I really value our different perspectives. Everyone's lived a different life and we're trying to build a platform that could serve anyone for anything.
We're trying to pull data from all these different places. Right now we do it in the eDiscovery/legal tech space, but if we do it well, it could serve the educational space or the finance space or any kind of vertical you could think of. Having people from these different backgrounds and experiences is setting us up for better success than having a whole bunch of people that were just all in the automotive industry or all in the legal world. We get everyone bringing their whole life experience to the table, different jobs, different things. Maybe my dad grew up as an educator and so now I have this knowledge of this thing that other folks may not. So that is a benefit.
A lot of our diversity at Onna comes from us being spread across time zones. We cover from the Pacific coast of the United States over to Western Europe at this point. There's an nine-hour gap there, and that time difference can be a challenge. Being a distributed team, we know how to approach this and understand that you only get a small window of time where you overlap with some of your co-workers. So are we able to overcome it? Yeah. But, does it take some work? Yeah, it does.
How are engineering teams at Onna structured?
Shannon: We've loosely followed the structure that Spotify made popular years ago: the squad model. We don't have full stack developers here; we have specialized developers — backend engineers, frontend engineers, UX designers, and QA people. But, we do have full stack teams. We've pulled all those folks into a single squad, and they are able to deliver our product to market. They have a product manager who helps to drive the future vision of the product, and engineers that can deliver.
It's a good structure for getting things out. But if you had a bunch of squads, it can become challenging to keep things consistent. So, the secondary sort of organizational unit we have is chapters. These are horizontally sliced teams, meaning all of our frontend developers talk regularly about the strategies they want to employ, the patterns they want to follow, the tooling they want to use. Same for our backend engineers, as well as our QA team.Our Squads are vertically focused and deliver products, like new eDiscovery features or connections to APIs. Whereas chapters are more best-practice oriented. With chapters, we ensure consistency across how we do code style and tooling.
How are people empowered at Onna?
Shannon: Because we're a relatively small company, there is still a lot of opportunity for people to assert themselves and pitch in if they see an opportunity to learn and grow. I ask people: if you look ahead three years, what do you want to be different from now? And what do we do to take steps to get towards that?
But, I can't make them do it. So empowering someone, giving that permission, is only the start. Then there needs to be continual encouragement, checking-in, and following up. "Six months ago, you said you wanted to grow in this area. How have you grown?" It's how we pull each other forward.
We also offer an annual $1,000 education stipend for conferences and courses. I've even encouraged people to sign up for a class and put a couple of hours a week of their work time into it. I look at professional development as part of getting better at your job.
What are some interesting challenges a new engineer at Onna might get to work on?
Shannon: Some of the largest companies in the world are using our product. Thinking about the scale of a large media company we might work with, they have hundreds of thousands of users, a million channels in their Slack instance and they're producing millions of messages a month. Our workflow pulls that data into Onna and we apply machine learning models to it to index that data to make it useful. The company is producing that data as fast as they are, and we're trying to pull in hundreds of thousands of users, producing millions of messages through APIs that are making calls out to get the data and bring it back in… we're moving a lot of data with just that company. Now consider this amount of data across a bunch of different companies and multiple data sources — their Slack instance, their GSuite, their Atlassian suite, Soom, Office 365, Box, etc.
We connect to over 30 data sources, capturing things like text, video, audio, etc, and that's only going to continue to expand.
We also work with this data at all different levels, so it's really interesting to think about how this applies to smaller companies and individuals, too.
What qualities would you say make someone successful at Onna, and what do you think that means for the future?
Shannon: A strong desire to be present and be a part of the solution. There are a lot of things to do and the challenge isn't coming up with what needs to be done necessarily, but the most successful people are willing to grab those things, run with them, and add to the list.
We're looking to hire really smart people, but we don't want you to come in and prove how smart you are. We want you to understand the whys — why we made a choice, what might lead us elsewhere, and what knowledge or previous experience do you have where you can lend your expertise. The way you go about doing that helps to make it a collaborative success, and that leads to progress.
In terms of the future, I think that the problem we've chosen to solve is a useful product, not just for a small set, but for everyone. I really think this could help a lot if we do this right. I can explain Onna to my mother, who's 70, and she gets it. Is she going to use it today? No, but can we get it to a point where my mom wants to? She wants to look for a message she sent to my sister and doesn't know it was on Facebook, Snapchat, or email — with Onna she can go and find it.
Not only do we have the products that I think will help make the world more efficient in their use of their data, I think also we are trying very hard to build a culture that is accepting of people, that actually seeks out differences in people, and values them as an addition to our culture.
We hope you enjoyed getting to know one of the many faces behind Onna. Be sure to follow us on LinkedIn and Twitter for more!
Back to the top