Ask an Onner: Diana Navarro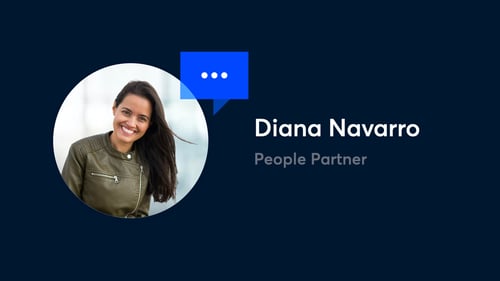 Welcome back to our Ask an Onner blog series, where we put the spotlight on the smart, driven, and passionate people who make Onna what it is. This time we're joined by People Partner extraordinaire, Diana Navarro, who helps bring our global culture to life.
Tell us about yourself and your role here at Onna.
Diana: I'm Diana, I've been an Onner since June 2020. I joined the People Team to work on general human resource functions; however, my role has since evolved. Now I oversee all HR matters here in Europe, particularly Barcelona, London, and Toulouse. I work in coordination with the U.S. People Team and with the VP of People here.
What initially drew you to Onna?
Diana: The first thing that caught my attention during the recruitment process was Onna's mission and potential. I could see how my role could adapt and change to meet the needs of the business. This was an attractive thing for me: to develop and market my career in the HR field.
Covid has had a significant impact on the way we work. How have you and your team navigated these challenges to keep people connected?
Diana: Before Onna, I never worked remotely. Part of my previous job was being in the office and sharing space with people, talking to them, and knowing how they feel. So it was really weird when I onboarded remotely!
We also have online activities to keep Onners connected. We do weekly games, remote after-work hangouts, and randomized coffee dates to talk about non-business stuff. I think this helps to connect people in a more personal way, which is the part we are missing by not being at the office. And we also have fun, something we want all Onners to do.
What would you say your experience has been with Onna, and what do you like most about working here?
Diana: My experience so far is that every day, I know that I have someone next to me, even if it's not physically, who I can count on. And, actually, the remote option gives me this vision of having everyone — not just the Barcelona team, but also the US team — right "next to me" because everyone is behind the screen. What I love the most about Onna is easy: it's the people. You don't find people who are always willing to help or people who are so kind to you in all companies, but I have found them here. And that's the most important thing for me. I also love having the opportunity to grow while surrounded by these great people.
In terms of the People team at Onna, and for you personally, what most excites you about being a part of a growing company?
Diana: From the People Team perspective, I would say it's the challenges that we're going to face as a bigger team and how we adapt accordingly. I'm excited by this. I think it's a big challenge, but I think we're ready to face it. For me, making sure that we're creating the best environment for our team is one of the most exciting things.

As someone whose role is more focused on the Europe team, I think it's important to address cultural differences that we have. We're a multicultural company, and we need to be inclusive of everyone and support our team's diversity.

Onna is a really cool place to work, with cool people, and it's been a really great experience for me. It's my goal to make sure everyone enjoys themselves.
Want to meet more Onners? Catch up on our previous conversations with Paul Charbonneau, Allison Keane, and Shannon Smith.
Back to the top