Ask an Onner: Allison Keane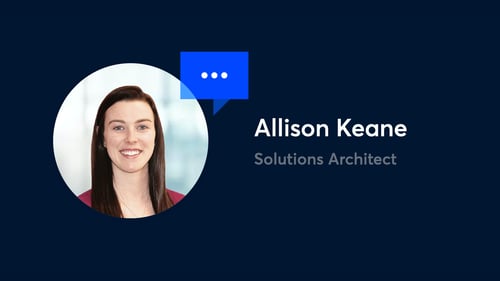 Welcome to the second installment of our Ask an Onner blog series, where we put the spotlight on the smart, driven, and passionate people who make Onna what it is. (In case you missed it, you can catch up on our first conversation, with Pavel Pratyush, here.)
Tell us a bit about you and your role.
Allison: My name is Allison and I am a Solutions Architect at Onna. I've been with the company since May 2019.
I've been based in New York since I moved here for college, but am originally from outside of Boston. I worked at a couple of startups before landing with Onna. My role here is to walk prospects and customers through our solutions — in other words, I bridge the gap between business and tech to say, "Okay, this is how our technology can help you with your business need."
I also do a lot of product demos and feedback sessions to understand what customers and prospective customers are looking for and how we can help them. I then pass that information along to the Product Team.
I was actually a Customer Success Manager during my first 18 months with Onna. Working so closely with our enterprise customers is what inspired me to switch over to the Solutions role, which has been really an exciting move for me.
What drew you to Onna originally?
Definitely the customers. I came across this small startup and saw its customer base and thought to myself, "Hmm, I wonder what's going on here." I started talking to some folks at Onna and once I got to know the platform I saw how much potential it had. It really enables a lot of different use cases and it made sense why so many great companies were on board.
I was also interested in working with these companies to help develop the platform further. So I'd say it was a combination of the customers and the platform itself.
Having been with Onna for a couple of years, what do you find most exciting about working here?
When I started with Onna, there were only about six people on the business side of the team, and maybe 30–40 total including Engineering and Product. Seeing the team grow and getting to learn from all the different people coming aboard has been really exciting!
I also love watching our platform develop. I've worked really closely with the Product Team since day one in both roles, so I've seen first-hand how far our platform has come and all the enhancements that have been made. I feel like we've really become a well-oiled machine.
Are there any interesting challenges that either you or your broader team hope tackle in 2021?
We'll continue to educate folks on how they can use our platform, for both eDiscovery and other business needs. The platform itself is really powerful and can be put to a lot of different uses. I love being able to inspire people so they are as excited as we are about all the things the platform can do.
I think it's an interesting challenge, as we're also teaching Onners the same thing — and learning from them, too. Salim, our CEO, will often remind us to put our heads together and keep thinking about what the platform can do, because there are probably things that we haven't even thought of yet.
What do you think makes someone successful at Onna?
There are a couple of things. The first is being a self-starter who is not afraid to ask questions, even if it's just so that the team can hear a different perspective. If one person says, "Hey, I think we should do this thing this way," there is always space to ask, "Well, what about this alternative?" Working together to accomplish our goals is something I really think we do well here.
What's really cool about the company overall is that we are spread across different countries and cities and yet we're still so collaborative. So, I think the second thing is being willing to collaborate and step up and give a hand. It will always be welcome!
We hope you enjoyed getting to know one of the many faces behind Onna. Be sure to follow us on LinkedIn and Twitter for more!
Back to the top